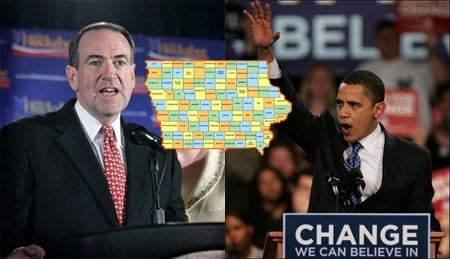 Democrat Barack Obama and Republican Mike Huckabee won their respective races in the Iowa caucuses Thursday night, leaving leftover candidates from both parties either scrambling for their next move or on their way out. Senator Hillary Clinton and John Edwards came within a percentage point of one another in the race for second place on the Democratic side, with Edwards edging out Clinton by a hair.
On the Republican side, second-place winner Mitt Romney was not even close, leaving a wide-open opportunity for John McCain in New Hampshire next week, where his support has risen in recent weeks.
The numbers came in like this: " Mr. Huckabee won with 34.4 percent of the delegate support, after 86 percent of precincts had reported. Mr. Romney had 25.4 percent, former Senator Fred D. Thompson of Tennessee had 13.4 percent and Senator John McCain of Arizona had 13.2 percent. On the Democratic side, with 100 percent of precincts reporting, Mr. Obama had 37.6 percent of the delegate support, Mr. Edwards 29.8 percent and Mrs. Clinton had 29.5 percent. Gov. Bill Richardson of New Mexico was fourth, at 2.11 percent."
Other details:

Massive turnout bad omen for the GOP.


Chris Dodd, Joe Biden drop out of Democratic race…


Keith Olbermann declares that Mike Gravel has dropped out of the race, and Gravel demands a retraction!


Thompson finishes in near-tie for third with John McCain…


McCain reacted from New Hampshire: "I think that the lesson of this election is that, one, you can't buy an election in Iowa; and, two, that negative campaigns don't work. They don't work there, and they don't work here in New Hampshire."


Giuliani vows to fight on after poor showing.


Independents go for Obama and Ron Paul.
Check out what the candidates had to say (Clips of ALL THE SPEECHES) about their respective wins and losses, AFTER THE JUMP…
OBAMA: "You know, they said this day would never come. They said our sights were set too high. They said this country was too divided, too disillusioned to ever come together around a common purpose. But on this January night, at this defining moment in history, you have done what the cynics said we couldn't do. . . . You have done what America can do in this new year, 2008."
HUCKABEE: "What is happening tonight in Iowa is going to start really a prairie fire of new hope and zeal. And it's already happening across this nation because it is about we; we the people. We saw it tonight. . . . And we're going to continue to see it because this country yearns and is hungry for leadership that recognizes that when one is elected to public office, one is not elected to be a part of the ruling class; he's elected to be a part of the serving class."
CLINTON: "We're going to take this enthusiasm and go straight to New Hampshire…We have always planned on running a national campaign all the way through the early contests…What is most important now is that, as we go on with this contest, that we keep focused on the two big issues, that we answer correctly the questions that each of us has posed. How will we win in November 2008, by nominating a candidate who will be able to go the distance? And who will be the best president on day one? I am ready for that contest."
EDWARDS: "The one thing that's clear from the results in Iowa tonight is the status quo lost and change won. And now we move on. We move on from Iowa to New Hampshire and to the other states to determine who's best suited to bring about the change that this country so desperately needed."
ROMNEY: "Well, well, we won the silver. But just as Dan Jansen pointed out – you win the silver in one event, it doesn't mean you're not going to come back and win the gold in the final event."
THOMPSON: "It looks like someone's gonna have to carry a strong conservative message, and it looks like it's gonna be me."