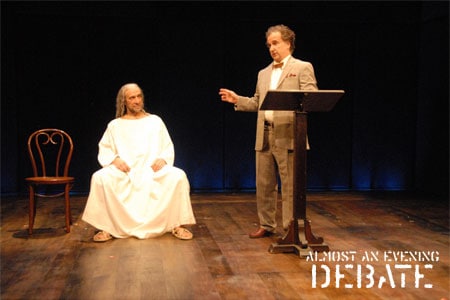 Please welcome Kevin Sessums, who last looked at Is He Dead? and The Little Mermaid for Towleroad. You can also catch up with Kevin at his own blog at MississippiSissy.com.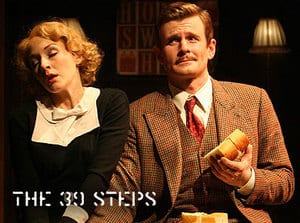 Alfred Hitchcock's The 39 Steps, as the movie-as-play adapted by Patrick Barlow based on a concept by Simon Corble and Nobby Dimon is billed, opened recently at the American Airlines Theatre. Originally a hit on the West End where it won an Olivier Award as Best New Comedy, it has been brought to New York by the Roundabout Theatre. An inventive and cockamamie pastiche of the most melodramatic of early Hitchcockian cinema, the evening is a mixture of Monty Python-like absurdity absorbed into a superior physical clowning — a kind of knock-about self-referentiality, both haughty and heightened, that is savvy enough for the audience to identify with as well — one associates with even earlier cinematic geniuses: the silent sophisticates Keaton, Lloyd, and Chaplin. Much of this is to the credit of director Maria Aitken as well as Tony Sedgwick, who is responsible for Original Movement, and Christopher Bayes, whose credit reads Additional Movement.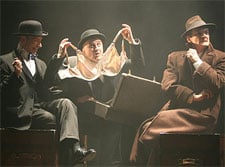 The cast of four essays all of the people who populated the film. The romantic leads onstage, repeating the Robert Donat and Madeleine Carroll screen characters, are Charles Edwards, who is reprising the role he created in London, and Jennifer Ferrin, who is also hilarious in the original Peggy Ashcroft part as a Scottish highlands farm wife. But the two supporting players — Cliff Saunders and Arnie Burton — steal the show in their myriad roles. I won't spoil all the fun by unspooling the whole story for you or how exactly they pull it off. If you've seen the movie you know anyway it concerns the archetypical wronged-man-on-the-run scenerio that would continue to interest Hitchcock throughout his career. But be warned the evening at times can morph into a vaudevillian turn for the tragically hip, a feat that can give the night a twee air about it. If you're an unabashed Anglophile, however, you'll be twittering to yourself long after the curtain falls. I felt the evening's longueurs long after myself.
T T (out of 4 possible T's)
The 39 Steps, American Airlines Theatre, 227 W. 42nd Street, New York. Ticket information here.
**
ALMOST AN EVENING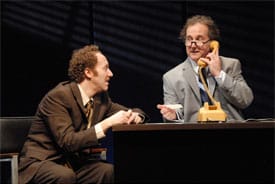 Almost an Evening could just as well be called Ethan Coen's Almost an Evening. Coen, along with his brother Joel, is nominated for an Oscar this year for Best Director for No Country for Old Men, arguably the best movie released in 2007. They also just won the DGA Award, the first pair to win since Robert Wise and Jerome Robbins won for West Side Story. The Coen Brothers, though more self-effacing in person than self-referential, have a rather tragically hip reputation themselves and when word got out that Ethan had written an evening of three one-acts for the Atlantic Theatre Company's Stage 2 on 16th Street the run was immediately sold out.
Continued…AFTER THE JUMP—
The first play is called Waiting and it could have been written by an even glibber Rod Serling. It plays like a Twilight Zone episode if IFC revived the series for cable. The rubber-faced Joey Slotnick — a kind of modern-day Ed Wynn — gives an amusing performance as the man caught in a hellishly bureaucratic anteroom. If you've ever been caught in a bureaucratic hell of your own then this slight curtain raiser might seem more caustic to you than it finally is.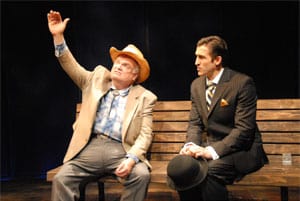 The middle play in the intermissionless evening is Four Benches and concerns a James Bond-like secret agent — the handsome Jonathan Cake — calling into question his whole existence in a world filled with secrets and subterfuge. Luckily much of it takes place in a steam room which affords us the opportunity to see the strapping and talented Mr. Cake in a towel. It also contains a sight gag at the beginning that had the audience gasping at the towel-less actor, Del Pentacost, playing Earl for a side-splitingly split second or two. J. R. Horne, as Earl's father, is able to be both touching and amusing in his one scene as Earl's father.
But these first two plays are only marking time for us to get to the final one, Debate, the hilarious climax to the evening. F. Murray Abraham, whose self-referential talent borders so often onstage as self-importance, is able to parody himself as well as the Deity as the character called God Who Judges. In a flowing white robe and a flowing wig, he approaches the podium set up for the debate and launches into a foul-mouthed lecture as the most bombastic version of God imaginable. I often smile to myself when something is funny onstage but Coen and his surrogate Abraham had me laughing out loud. It is an expertly comedic performance from one of our most serious of actors, an incongruity that grows and grows until it forms some new kind of hilarity, as sacrilegioius as it is — well — rather screwy. It's a scream — almost a primal one.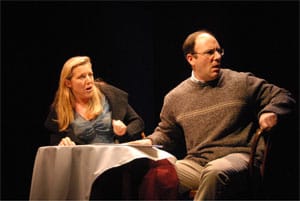 The God Who Loves — the debater who takes him on — is played by the pleasingly milquetoast Mark Linn-Baker. At the end of their debate, which ends tragically, the play takes a Pirandello-like turn and we realize that Debate has also been watched by the rest of the characters in the play. Abraham takes off his wig and robe and becomes the, yes, self-important actor playing the role who takes his girlfriend out for dinner in a Manhattan restaurant after his performance. As Lady Friend, the ever-marvelous Elizabeth Marvel, one of my favorite New York actresses, gives a wry and droll performance as his long-suffering girlfriend. I've never seen Marvel give a bad performance and it's worth the wait to see what she can do in her scenes with Abraham — together they are explosively funny even as they underplay their characters' seething regard for each other.
Neil Pepe, who has been the Artistic Director of Atlantic Theatre Company since 1992, directs the evening with a sure hand. He has modulated each play expertly. Indeed, Pepe is becoming one of the city's most astute directors. David Mamet is a mentor of his — and one of the founders of the Atlantic — and is also the butt of one of Coen's jokes in Almost an Evening. Noticing that — and nudging one's friend in the neighboring seat — can make one feel rather tragically hip oneself.
T T 1/2 (out of 4 possible T's)
Almost an Evening, Atlantic Theater Company, 330 West 16th Street, New York. Ticket information here.
Previous reviews…
On the Stage: Is He Dead? and The Little Mermaid [tr]
On the Stage: Holiday Fare — The Drowsy Chaperone, West Side Story, Xanadu and The Color Purple [tr]
Doris and Darlene and The Homecoming [tr]
On the Stage: The Seafarer and August: Osage County [tr]
On the Stage: Trumpery [tr]