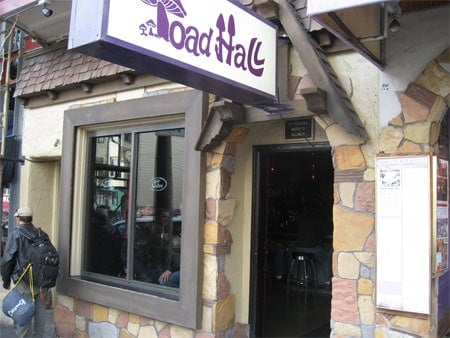 For all our Milk news, click here…
There's been plenty of documentation of the transformation of San Francisco's Castro Street for the Gus van Sant film Milk and I'll attempt to round up everything I've been sent here.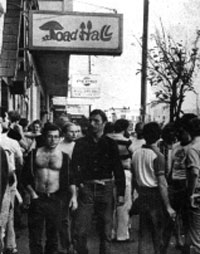 Above is a shot of Toad Hall reconstructed. The black-and-white shot here is how it looked outside Toad Hall in the 70's.
According to Uncle Donald's Castro Street, "Toad Hall was one of the most popular bars on Castro Street, definitely a major 1970's social institution and an exciting part of our neighborhood story. In fact, it may have had a significant influence on the influx of gays to the Castro. The bar was a trendsetter. The management was creative and innovative. Toad Hall was the first dance bar in the Castro and was one of the first bars anywhere to use taped music instead of a jukebox, not just taped music but well-planned programs of songs that flowed into each other seamlessly. When the other bars began to catch up, Toad Hall installed a booth and hired a DJ; another major step in providing the best entertainment for the patrons. At that time, most gay bars were governed by greed. Gays were happy to have ANY place to meet and were at the mercy of slumlords who would accept them. We learned to put up with rundown places in seedy locations, run by people who didn't care about us and were unwilling to make repairs and improvements. Toad Hall welcomed us with a warm friendly smile into a clean, well-decorated establishment. So it is not unrealistic to think that gays would flock to the Castro from all over the City (and beyond) to visit Toad Hall, and in doing so would become charmed by the beauty of the neighborhood."
It opened on May 28, 1971. The bar got its name, according to Uncle Donald, "after the home of 'Toad' in the childrens story Wind in the Willows written by Kenneth Grahame in 1908. Toad was a charming and respectable but wayward frog; a misfit who didn't quite fit into the community of quiet, hard-working, rural creatures, nor could he handle the fast-paced, hectic role of a city dweller."
Our reader David Corbell took these photos as well. You can view more of them on his Flickr page.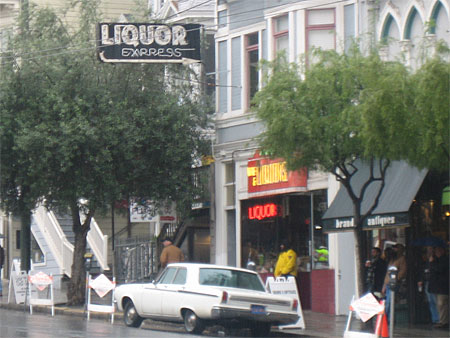 Liquor Express, now Swirl on Castro wine shop. (source)
Much more AFTER THE JUMP…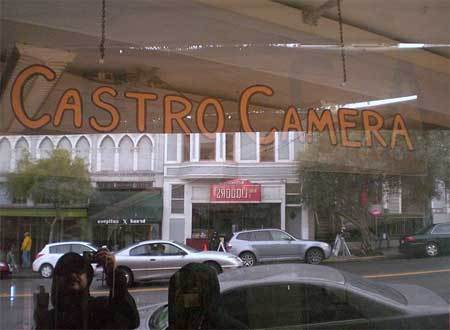 Harvey Milk's camera shop, out of which he ran his campaign office. Quite a stunning transformation considering just weeks ago it was the gift shop Given we profiled earlier on Towleroad.
(photo source for the camera shop)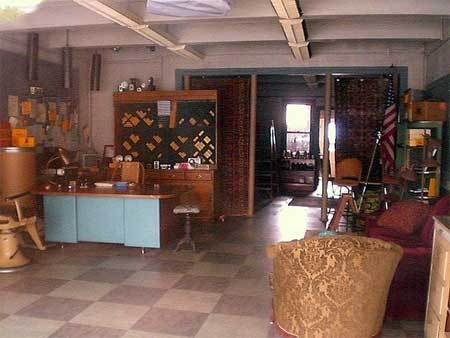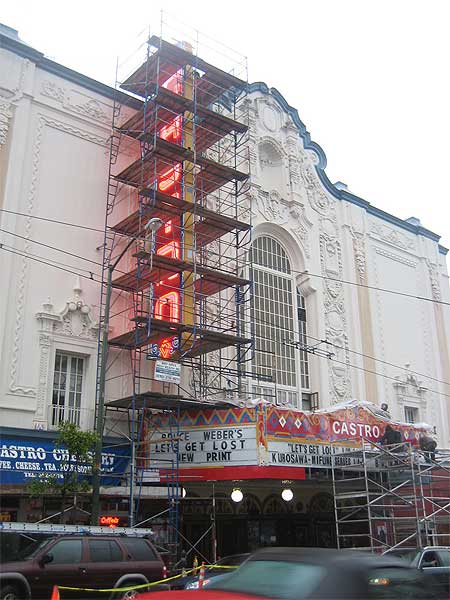 Castro Theater (source)
More Photos…
Retro-fitting [i'm just sayin]
Castro Milk transformation [flickr david78sf]
More MILK Pictures [gay cities]
Sprouting overnight, it's Toad Hall [castro shopper]
So Here We Go [the milk fanboys]
Increased Milk Production [castro shopper]
Gus Van Sant's Milk Set Photos [/film]
You may have missed…
Extras Needed for Milk March in San Francisco [tr]
First Look at Josh Brolin as SF Supervisor Dan White in Milk [tr]
Grabeel, Luna, Smith Join Milk Cast as Production Begins [tr]
EXCLUSIVE: Victor Garber, Denis O'Hare, Stephen Spinella Join Milk [tr]
Singer's Harvey Milk Film in Jeopardy as Van Sant's Gains Steam [tr]