PageOneQ reports (via AP) that openly gay Paris Mayor Bertrand Delanoe (as well as targets in his city) is the subject of a threatening email sent to a radical Islamist website: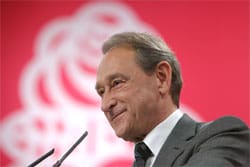 "The e-mail's sender and the site were not identified by the officials, who spoke on condition of anonymity because they were not authorized to discuss the matter publicly. They said only that the message went to an Internet site run by Salafists, or Islamic fundamentalists. Paris Mayor Bertrand Delanoe said on RTL radio that authorities informed him of the threat Saturday. 'I am calm. I have the information I need and I have complete confidence in the work … of police headquarters vis-a-vis security problems in general, terrorism in particular and finally the protection of the mayor of Paris,' Delanoe said later on the TV station iTele.
Local and national anti-terrorist agencies are looking into the situation.