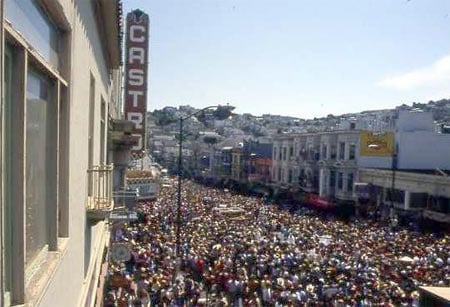 Filming begins later this month on Gus van Sant's Milk film about slain SF supervisor and gay rights activist Harvey Milk (starring Sean Penn as Milk, with Emile Hirsch, Josh Brolin, and James Franco in co-starring roles), and preparations are fully underway to begin shooting on location in San Francisco's Castro district: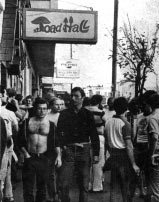 "Longtime denizens are likely to find some old haunts return to Castro Street, like the fabled Toad Hall bar – now part of Walgreens – and Milk's old camera shop – now the home of gift store Given – as the filmmakers recreate the streetscape from the days when Milk reigned over the area as the 'mayor' of Castro Street. 'We want to dress this neighborhood the best we can like the 1970s,' said Jonathan Shedd, the film's location manager. 'We hope to create a feel that works.' Cars from the era will be parked on the streets. Awnings and street signs of businesses postdating that time will be changed. Even the Castro Theatre will be swept up by the time warp. The movie-house's marquee, damaged by a Muni bus that ran into it while PG&E crews were doing work out front this fall, will be repaired next month and repainted to match the color palette it sported four decades ago."
The filmmakers have been meeting with local business owners to alert them of the "circus" that may prevail when shooting begins there on January 22, although the consensus appears to be that exposure from the film is likely to revitalize the area's businesses and make it a tourist destination.
The images you see here are from Uncle Donald's Castro Street, the most complete historical archive of the neighborhood online. If you haven't been there, it's a fascinating visit.
Top image by Jerry Pritikin, who has his own gallery at Uncle Donald's site. Pritikin writes: "A view of the 1977 Castro Street Fair, looking South from Market Street. This was the old style Castro Fair, nothing but two blocks of wall to wall men!"
***NOTE: We'd love to receive photos from anyone in San Francisco regarding the filming of the Milk film or the transformation of Castro Street!
Castro set for movie makeover [bay area reporter]
You may have missed…
Exclusive: Inside Harvey Milk's Castro Street Camera Shop Today [tr]
Emile Hirsch, Josh Brolin, James Franco Sign on to Milk Film [tr]
Gus van Sant and Sean Penn are First to Spill Milk [tr]
Singer and Van Sant Vie to be First with Harvey Milk Film [tr]