It's always nice to see Bayard Rustin remembered.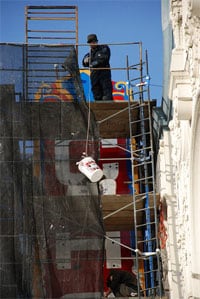 Castro makeover for Harvey Milk biopic gets started.

Clash of the Sci-Fi titans: JJ Abrams' Star Trek hunks attend JJ Abrams' Cloverfield premiere.

RUMOR: Quentin Tarantino remaking Russ Meyer camp classic Faster Pussycat, Kill, Kill.

Sundance Film Festival, which begins tomorrow, to feature more than 40 gay-related films: "Alan Ball, one of the creators of 'Six Feet Under' and the writer of 'American Beauty,' will be showing 'Towelhead,' about a young Arab-American girl who gets involved with an army reservist living in her neighborhood. Craig Lucas, the director behind 'Longtime Companion' and 'The Dying Gaul' is back with 'Birds of America,' starring Matthew Perry and Hillary Swank. His new film focuses on three siblings who are suddenly reunited and working through various identity issues. Director Tom Kalin returns to Sundance after 16 years with 'Savage Grace,' starring Julianne Moore as a mother who tries to cure her son of being gay. The film is produced by 'Boys Don't Cry' producer Christine Vachon, whom Huang says has a special knack for bringing outsider queer films into the mainstream."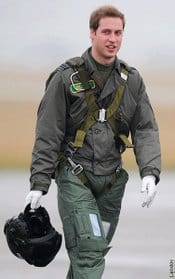 Airborne: Prince William and his strategically placed harness make first solo flight.

Virginia lawmaker Lionel Spruill trying to introduce legislation to ban rubber testicles from the backs of trucks: "They're offensive to some folks. It's OK to express yourself, but citizens have the right not to be subjected to something vulgar."

Europe's first gay nursing home opens in Berlin: "The newly built, four-storey nursing facility in the German capital could accommodate 28 patients in state-of-the-art rooms with private bathrooms and enough space for some of their own furnishings, said Christian Hamm, an architect and nursing home board member. 'When you're old … you certainly don't want to give up your identity and live in some hostile environment, possibly sharing a room with someone who despises you.' Potential residents are already signing up and have expressed delight at the prospect of living out their twilight years in a gay- friendly environment."

Gay T-shirt spotted in United Arab Emirates raises eyebrows: "Believe it or not, a T-shirt with sexually suggestive message — 'I am not gay but my friend is' — is being sold in one of the markets in Al Ain City. The offence is being committed despite the regular inspections by the concerned authorities to ensure that items sold in the city's markets are complying with the local customs and traditions. An Emirati resident here complained recently that he found the offensive message on his 10-year-old son's T-shirt. The father of the boy was astonished and wondered how such T-shirts entered the country."

Orlando City Commissioner Patty Sheehan donates $25,000 left over from her campaign fund to the Gay, Lesbian and Bisexual Community Center of Central Florida.

Fleshbot interviews Dan Savage of SLOG at the AVN expo (warning site NSFW).

Tracey Ullman to debut new comedy show on Showtime in the spring: Tracey Ullman's State of the Union will feature a kaleidoscope of original characters and impersonations in a wide collection of irreverent and hilarious skits that range from sardonic parody and social satire to Bollywood musicals. The limited series is a snapshot of modern day America as seen through the brilliant comedic mind of Tracey Ullman."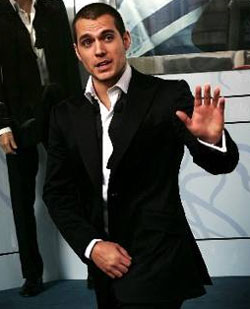 The dashing Henry Cavill showed up to the Dunhill event in London to let a few folks get a whiff of him.

Our pop music columnist Robbie Daw laments the closing of the Virgin Megastore on Sunset and Crescent Heights in L.A.

Zac Efron rushed to Cedars-Sinai Medical Center in appendix emergency…

San Francisco Presbytery becomes first in nation to consider openly gay deacon as minister: "Lisa Larges, who has been blocked from ordination for more than 15 years, won on a 167-to-151 vote of the local presbytery's ministers after three hours of debate. Larges said the ban on gay ministers 'puts upon the door of the church an 'Unwelcome' sign for all gay, lesbian, bisexual and transgender persons and their families.' The action allows Larges, a deacon at Noe Valley Ministry Presbyterian Church in San Francisco, to submit to an oral exam later this year. 'It has been a long battle and I have been through a lot of discrimination,' said Larges, her voice shaking. 'The church is a beautiful, messy thing, and it's about loving the church in spite of the church.'"

Kathy Griffin to do show for veterans at Walter Reade hospital.