In an interview published today on Belief.net, Republican presidential candidate Mike Huckabee equated homosexuality with polygamy and bestiality.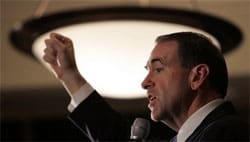 Talking Points Memo notes: "Huck has just clarified his view that the Constitution should be amended to be brought in line with God's will — and he directly equated homosexuality with bestiality. Huck, in elaborating on his views that the Constitution should be subjected to Biblical standards, had just wrapped up a discussion of the fact that marriage has meant 'a man and a woman in a relationship for life.' With this context firmly established, this exchange followed:"
BELIEF.NET: Is it your goal to bring the Constitution into strict conformity with the Bible? Some people would consider that a kind of dangerous undertaking, particularly given the variety of biblical interpretations.
HUCKABEE: Well, I don't think that's a radical view to say we're going to affirm marriage. I think the radical view is to say that we're going to change the definition of marriage so that it can mean two men, two women, a man and three women, a man and a child, a man and animal. Again, once we change the definition, the door is open to change it again. I think the radical position is to make a change in what's been historic.
(via americablog)
You may have missed…
Mike Huckabee: Amend Constitution to Reflect God's Standards [tr]
Michael Stipe Hearts Huckabee, But He's Not Sure Why [tr]
Flashback: Huckabee Congratulates Canadians on Their Igloo [tr]