Iran claims video of aggressive action toward American ships is U.S. fabrication: "The US has released grainy footage, apparently showing small boats speeding near the American warships. In an audio recording, an Iranian radio operator appears to say 'I am coming at you; you will explode'. The Iranian parliamentary speaker has dismissed the affair as being part of a US propaganda campaign against Tehran."

NSA report confirms Vietnam "Gulf of Tonkin" episode never happened. (via americablog)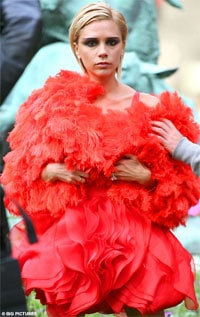 Mr. Blackwell releases annual worst-dressed list. The winner? "Forget the fashion spice – wearing a skirt would suffice! In one skinny-mini monstrosity after another, pouty posh can really wreck-em." See who else made it.

Out writer Josh Kilmer-Purcell starts "Phags for Phelps" site after striking up email correspondence with Shirley Phelps-Roper: "I've long believed that the more chances America gets to see blatantly ugly homophobia in action, the better it is for the GLBT community. To quote Supreme Court Justice Brandeis: 'Sunshine is the best disinfectant.' Half humorously, half seriously, (as in everything I do) I suggested in my recent OUT column that gays and lesbians start a 'Phags 4 Phelps Dephense Phund.' Fred Phelps, if you don't know who he is, is the patriarch of a one-family-band of hate called the 'Westboro Baptist Church.'..I honestly think that the more America sees this ugly hatred, the more they shy away from it. So I suggested starting the "Phags 4 Phelps Dephense Phund" to keep them away from bankruptcy and out on the streets where they belong."

Parkinson's Disease linked to exposure to common solvent.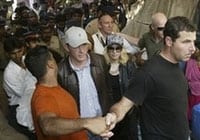 Madonna, Guy tour the slums of Mumbai.

Youths arrested for alleged anti-gay attack on December 5 on the Washington Metro say they targeted victim because he was drunk, not because of his sexuality.

Queen Elizabeth loves Wii bowling: "A Palace source told The People: 'When she saw William playing a game after lunch at Sandringham she thought the Nintendo looked tremendous fun and begged to join in. She played a simple ten-pin bowling game and by all accounts was a natural. It was hilarious. William was in fits of laughter. He was enormously impressed at having such a cool gran. And although she is 81 the Queen's hand-eye co-ordination was as good as somebody half her age.'"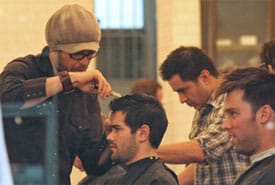 Jesse Metcalfe's Hollywood hair-cut.

Anti-gay Pastor Ken Hutcherson has reportedly initiated the Microsoft stock-buying scheme I posted about in November: "It's unclear what effect, if any, the initiative could have on the stock price. It would be difficult to influence company direction — just to gain a 1 percent stake in Microsoft, about 31 million people would each have to spend $104 to buy three shares. Microsoft has about 9.36 billion outstanding shares, and its largest holder is Chairman Bill Gates, with 858 million shares, or 9 percent of the total. Capital Research and Management Co. follows with nearly 557 million shares, or 6 percent."

Scientists float new global warming weapon: super-hairy soya plants.

Court rules that "Dykes on Bikes" can keep their name.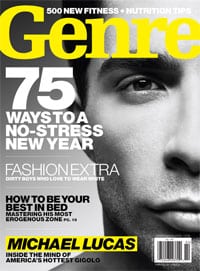 Genre takes on the cheekbones of Michael Lucas: "I am very proud that Genre chose me to be on their cover, as national consumer magazines—even if they are gay—tend to shy away from putting members of the adult community front and center."

Wonkette has a chat with former Gawker editor Choire Sicha about the New Hampshire primaries and which Romneys might be worth molesting: "Josh. Josh is the hottest thing since bacon was invented."

Kentucky gay rights groups thumb noses at one another: "The general advisory council of the Kentucky Equality Federation has approved a resolution not to be aligned with the Kentucky Fairness Alliance. Jordan Palmer, president of the federation, released a copy of his group's resolution noting the break. It said the group 'has received many reports from federation management and affiliated organizations about difficulties in working with current leadership of the Kentucky Fairness Alliance and particularly its chief spokeswoman, Christina Gilgor.' It added, 'It is obvious that the Kentucky Fairness Alliance, through its current executive director, is alienating many members of the Kentucky Equality Federation and its affiliated organizations and thus becoming less of an effective force in lobbying and working for improvement of gay rights in the Commonwealth of Kentucky.'"

Simon Cowell sheds some of his moobs.