The Mayor of Castro Street, the long-in-development film about SF Supervisor Harvey Milk which is the second of two films in development about the gay rights pioneer, looks less and less likely to be a reality as Gus van Sant's competing production start date of January 22 quickly approaches.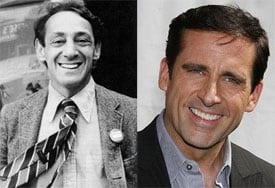 One half of the producing duo behind the Singer project, Craig Zadan, expressed dismay to website Film Stew, and also broke the news that the project was to be the first major crossover dramatic role for actor Steve Carell:
"Bryan was supposed to direct The Mayor of Castro Street immediately following Valkyrie. And out of the blue, Gus Van Sant came along with another Harvey Milk script. So although we have been working on this movie for 16 years, where finally we found the moment in time where we got the right script, the right director and even – we haven't really discussed this – shall we say, interest in the movie from Steve Carell to play Harvey Milk… Once we started thinking about it [the idea of Carell as Milk], we thought, 'Wow, that's a great idea.' "So we were all primed to make it; Warner Bros. was primed to make it; and, in theory, we would have been going into production right after the writers strike. But now, with the Gus Van Sant movie going ahead [Milk, with Sean Penn in the lead role], nobody wants to have another situation like Capote. They [Van Sant, Focus] haven't starting shooting yet, so anything can happen. But the handwriting is on the wall that if they go into production and start shooting, we won't get to make our movie."
Last week, I reported that preparations were already well underway by the Milk team to transform San Francisco's Castro district back to the way it was in the 70's by performing a cosmetic facelift that would return classic gay bars like Toad Hall to their original sites.
Got Milk? [film stew]
Recent spilled Milk…
Gay San Francisco Supervisor Tom Ammiano to Join Milk Film [tr]
Castro Street to Undergo "Time Warp" for Milk Biopic [tr]
Exclusive: Inside Harvey Milk's Castro Street Camera Shop Today [tr]
Emile Hirsch, Josh Brolin, James Franco Sign on to Milk Film [tr]