Swedish authorities who arrested a man in Stockholm for the attempted murder of a gay man he arranged to meet online now say that the man is suspected of at least one other gay man's death: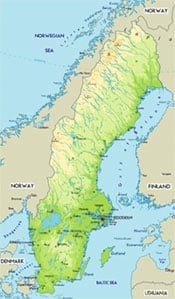 "The man, 35, has been charged with killing a 45-year-old man in Solna, a suburb of Stockholm, police say. The victim's body was found on Monday, but Mikael Ekman of Stockholm Police said he was killed on 28th December. Ekman also revealed that the man had previous convictions for attacks on gay people. 'The man picks out homosexual victims, but I do not know whether the 45-year-old was homosexual,' Ekman said. The victim was found bound and stabbed to death in his apartment after colleagues reported that he had not turned up to work. The suspected killer was arrested on Monday on suspicion of robbing and attempting to kill at gay man in an apartment in the Södermalm district of Stockholm. 'We suspect that this is a hate crime. When you meet on the internet, arrange a meeting at someone's home and when one party after a pleasant interlude tries to kill the other, then it is regarded as a hate crime,' Ekman said. The suspect has confessed to being at the apartment in Södermalm and admitted holding the knife."
According to The Local, the man arrested was previously imprisoned for nearly two years for another assault on a gay man with a lit cigarette and a knife which he threatened to slice through his victim's spine.
In mid-December, a prominent Swedish politician, MP Fredrick Federley, was targeted in an unrelated anti-gay attack by a group of men in central Stockholm.
Man charged with brutal gay hate attacks [the local]