This week, Jon Barrett rounds up what folks have got their eyes and hands on at the annual Las Vegas Consumer Electronics Show including plasma displays, phones, Bluetooth and iPod devices. Plus a look at Bill Gates' last CES and the Microsoft man on Guitar Hero, the Boeing 787 Dreamliner and its potential attraction to onboard hackers, and the development of the iPhone.
I didn't get to make it to the Consumer Electronics Show this year because the day job (and paycheck) kept me in New York City. But thanks to the substantial and extensive reports on other sites (especially Gizmodo, Engadget, and Wired), I've found some of the coolest products promoted at the Las Vegas extravaganza this week:

TVs always get bigger at CES. And, thanks to Panasonic's 150-inch plasma display, this year was no exception. As you can tell from the picture above, this thing not only towers over a human, it makes last year's biggest Panasonic (a mere 103-incher) look tiny. See video of the giant set footage, where Panasonic shows you how easy it is to destroy an LCD set. (yikes).
As large as that set is, thin was the magic word — as this 9-mm Pioneer plasma, 40-mm Samsung LCD, and 1.5-inch Hitachi LCD prove.
And to prove that the iPod is a part of everything, check out The OptiMax-iPod dock/projector, which allows you to hook up your music player and project stored movies.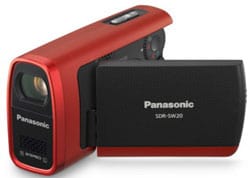 Thin was the keyword for cameras too—especially for Casio's new line of Exilims. So was cheap, thanks to this $400 SD-based camcorder from Panasonic.

The gamers crowded around nearly identical 3-foot-wide curved displays from Alienware and NEC.

Innovations in the world of iPod docks include Altec Lansing's T612, which is supposed to eliminate that annoying GSM buzz when you try to park an iPhone, and JVC's couple-friendly NXPN7 iPod clock radio, which will charge two 'pods at the same time.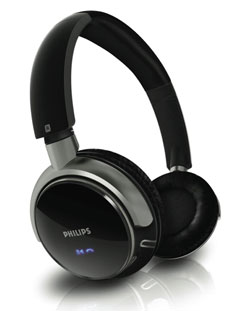 After wearing out several pairs of Plantronics Pulsar 590As, I'm looking forward to checking out Phillips' SHB9000 Bluetooth headset, which the company says (perhaps too confidently) offers the best-ever music and conversation quality from a Bluetooth headset. But will it work with my iPhone? And if you need your 'phones to complement your Nano, check out Panasonic's RP-HTX7s, which will hit stores for what seems a very reasonable $40.

The most noteworthy phone I saw was the Motorola ROKR E8, which has a completely smooth face and no physical keys. See a video of it here. Also interesting is the Samsung SGH-F490, a Prada-esque phone with 3.2-inch screen and a 5 megapixel camera.

And, of course, there was video of nearly everything that happened. Here's a bit of the best coverage:
BILL GATES: The Microsoft chairman announces it's his last CES.
BILL GATES, GUITAR HERO: Gates jams with Slash in a special game of Guitar Hero.
CUBE CONTROL: A demo of Herman Miller's new climate control gadget.
THE WORST JOB AT CES: Testing underwater cameras.
But not all the tech news was from Las Vegas and CES:

Aside from actually having the phone in your hand, going to the website Tryphone could be the best way to test drive new mobile phones. Choose the phone you're interested in, and then the site provides a virtual interactive experience, giving you a sense of each phone's interface. There are still a few glitches—the site doesn't seem to work on Safari yet. But it's worth a visit if you're in the market for a new cell.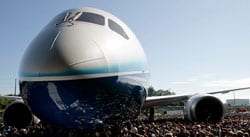 The Federal Aviation Administration warns that Boeing's giant 787 Dreamliner, which made its debut last summer, could have a serious security vulnerability. Wired.com reports: "The computer network in the Dreamliner's passenger department, designed to give passengers in-flight internet access, is connected to the plane's control, navigation, and communications systems."

The Macworld Expo kicks off on Tuesday in San Francisco and Mac-addicts are expecting Steve Jobs to announce iTunes movie rentals, Blu-ray drives in a handful of Macs, an ultraslim notebook or touch tablet, and new iPhone applications. While waiting for the news, read this Wired.com story, about the creation and introduction of the iPhone.