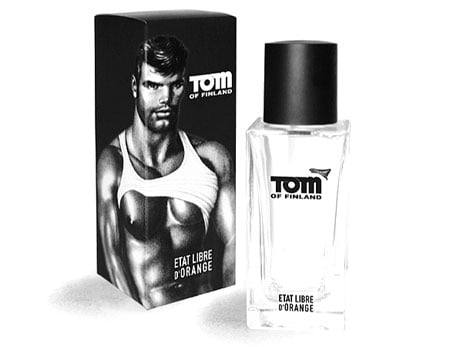 Here's a first look at the packaging for Tom of Finland cologne, which is about to launch in Europe.
According to fragrance site Scented Salamander, "The perfumer-composer for the fragrance is Antoine Lie and to him it had to smell like 'a guy coming out of a shower. He's clean, but not fragranced. And he puts on leather pants.' There is also an outdoorsy aspect to the scent and themes of 'metal, leather, sensuality, beauty and radiance' inspired by Tom of Finland's drawings. Perfume wearers will be carded — that's right — as a suggestive sketch is part of the outer packaging (must be on the other side). You will have to be 21 in the US and 18 elsewhere."
Notes include a crumpled leaf, suede, metal, pepperwood, iris, tonka, vetiver, and musks.
A crumpled leaf? And what's tonka — little toy cars? Gotta love that. (I guess it's a vanilla-smelling bean too. I think I like the car smell better)
The fragrance promises that it "does not disturb the odor of men" which I guess means you'll still be able to inhale the rich aromas of musky armpit, taint, and other places your nose might care to travel.
Previously
Tom Brady Gets Fresh [tr]
Henry Cavill Smells Like London [tr]
Scent of Scruff: Ewan McGregor to be Face of Davidoff Adventure [tr]
French Rugby Hunk Frederic Michalak for Biotherm Homme [tr]
Tom Ford: "I'm an Equal Opportunity Objectifier" [tr]
Fabien Baron Looks Back for Calvin Klein Man with Garrett Neff [tr]