Instead of holding celebrations across the state of Oregon timed with the introduction of a new domestic partner law, gay and lesbians held vigils protesting a last-minute decision by Judge Michael W. Mosman to intercede on behalf of anti-gay groups and halt the law from going into effect.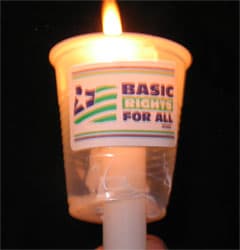 According to Basic Rights Oregon, over 500 people turned out in Portland, nearly 400 in Eugene, 150 in Ashland, 120 in Bend, and nearly 100 in Salem.
Said BRO's Executive Director Jeana Frazzini: "We are not going to be knocked down. Basic Rights Oregon will do everything in our power to win this case."
Mosman halted the domestic partner law, which would have given same-sex couples in the state all the rights enjoyed by heterosexual couples (aside from the "marriage" label), pending a February 1st hearing that would challenge the verification process.
The Mail Tribune in Ashland reported: "Rep. Peter Buckley, D-Ashland, a longtime champion of the law, announced, 'I'm mad as hell and I'm not going to take it anymore — and many people here have reached that point long ago.' However, Buckley said if the law doesn't survive the signature validation challenge and future appeals, 'I know without a shadow of a doubt it's going to pass' by surviving the ballot measure in November. 'Oregonians believe in equal rights for all, not in any second-class citizens,' Buckley said. 'We believe families should not have to wait any longer. This is our home, our community and we're not going to let any out-of-state groups stop us. We're going to fight hard and organize, organize, organize.'…Buckley brought the audience to its feet by telling the story of the bill's hearings, how after opponents finished testifying, he would say, 'Homosexuality is not immoral; hate and bigotry are immoral.'"
A Vigil for Equality [mail tribune]
Delay in gay rights law prompts Bend vigil [ktvz]