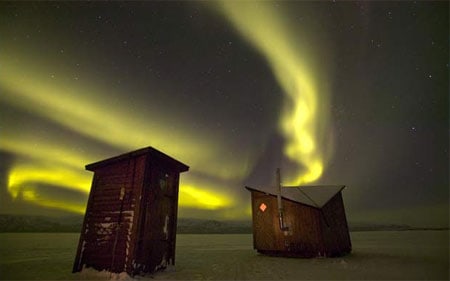 This is part of the latest hotel to open in northern Sweden, the Abisko Ark hotel. It's made up of a few huts in the middle of Lake Tornetrask, three kilometers out where the ice is a meter and a half thick. The main purpose of the hotel? To view the Aurora Borealis, or Northern Lights as some call it.
"Guests are expected to bring essentials such as thermal underwear, fleeces and woolly hats, but the hotel provides thick outerwear and heavy snowmobile boots. From a distance the huts look anything but substantial. With a pitched roof, a small window and narrow door, they squat on the snow-covered ice like dark blemishes. But they are more than a match for the elements, constructed of double-skinned pine and plywood with a thick layer of insulation in between, and kept warm with propane heaters. Each is about six metres square and sleeps three comfortably on single beds. The best part is that by each bed is a resealable hole in the wooden floor, allowing guests to fish from the comfort of their down-filled sleeping bags."
The writer of this piece took on the lights completely naked. For those like him, there's a sauna and hot tub waiting.
(Gallery)
Ice, Fire, and a Free Light Show [the observer]
(via bldg blog)