Late yesterday, the New York Times dropped a damaging story on John McCain and his potentially damaging relationship with lobbyist Vicki Iseman.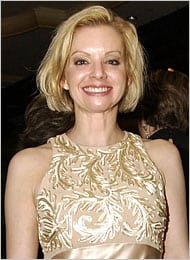 NYT: "The lobbyist, a partner at the firm Alcalde & Fay, represented telecommunications companies for whom Mr. McCain's commerce committee was pivotal. Her clients contributed tens of thousands of dollars to his campaigns. Mr. Black said Mr. McCain and Ms. Iseman were friends and nothing more. But in 1999 she began showing up so frequently in his offices and at campaign events that staff members took notice. One recalled asking, 'Why is she always around?'"
No doubt Mitt Romney and Rudy Giuliani are gnashing their teeth and wringing their hands that the Times, which has endorsed McCain, chose to hold this story until McCain clinched had clinched the nomination, considering they leaked it to Matt Drudge back in December.
The lede: "Early in Senator John McCain's first run for the White House eight years ago, waves of anxiety swept through his small circle of advisers. A female lobbyist had been turning up with him at fund-raisers, visiting his offices and accompanying him on a client's corporate jet. Convinced the relationship had become romantic, some of his top advisers intervened to protect the candidate from himself — instructing staff members to block the woman's access, privately warning her away and repeatedly confronting him, several people involved in the campaign said on the condition of anonymity. When news organizations reported that Mr. McCain had written letters to government regulators on behalf of the lobbyist's client, the former campaign associates said, some aides feared for a time that attention would fall on her involvement. Mr. McCain, 71, and the lobbyist, Vicki Iseman, 40, both say they never had a romantic relationship. But to his advisers, even the appearance of a close bond with a lobbyist whose clients often had business before the Senate committee Mr. McCain led threatened the story of redemption and rectitude that defined his political identity."
McCain's Communications Director Jill Hazelbaker issued the following statement: "It is a shame that the New York Times has lowered its standards to engage in a hit and run smear campaign. John McCain has a 24-year record of serving our country with honor and integrity. He has never violated the public trust, never done favors for special interests or lobbyists, and he will not allow a smear campaign to distract from the issues at stake in this election. Americans are sick and tired of this kind of gutter politics, and there is nothing in this story to suggest that John McCain has ever violated the principles that have guided his career."
For McCain, Self-Confidence on Ethics Poses Its Own Risk [nyt]
More Analysis
The McCain Story [talking points memo]
How The Times Fucked Everyone With Its John McCain Story [gawker]
McCain and the lobbyist: the final straw for the GOP Base? [pams house blend]