Arizona lawmakers proposed a constitutional ban on same-sex marriage Monday: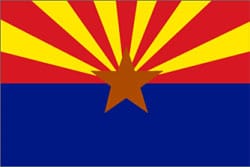 "The proposal was backed by 16 of 30 state senators, and an identical proposal was introduced in the House. Both chambers would have to approve the measure in a vote for it to be included on the ballot. Under the amendment, 'only a union of one man and one woman shall be valid or recognized as a marriage in this state.' The proposal comes after Arizona voters narrowly rejected a similar measure in November 2006."
A similar measure in 2006 was rejected by voters because it reached too far, including prohibiting domestic partnerships and civil unions.
Said State Rep. Kyrsten Sinema (D-Phoenix): "I don't think it's needed. I don't think it's necessary. We've already had this fight a couple of times."