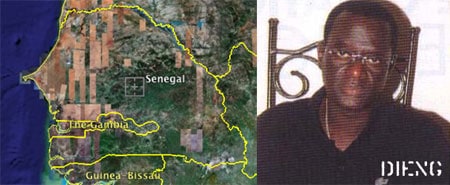 News coming out of Senegal on this is fairly sketchy but it seems several men were arrested following the publication of photos of an alleged 'gay wedding' ceremony in a local magazine.
The BBC reports: "The pictures were published in Icone magazine, whose editor, Mansour Dieng, has since received death threats. Mr Dieng has also been questioned by police over the issue…The BBC's Tidiane Sy in Senegal said that at least five of the men arrested appeared in the photographs. According to pro-government newspaper Le Soleil, the arrested men were all seized in 'a meeting house which could act as a brothel'. Police have not commented on the case but an official at the Department of Criminal Investigations told AFP news agency that an investigation was under way. The ceremony is believed to have involved a Senegalese man and another from Ghana or the Ivory Coast, who has not yet been found."
According to the BBC the editor published the photos to lend credibility to a prior article on homosexuality in the west African, predominantly Muslim country.
UPDATE: According to a notice issued by the The International Gay and Lesbian Human Rights Commission (IGLHRC) "At least 7 and perhaps as many as 20 gay men have been arrested in Dakar, the Senegalese capital, since the morning of Sunday 3 February after a popular local magazine, Icones, published photographs of a marriage ceremony between two Senegalese men. The wedding is believed to have taken place in a discrete location in Dakar more than a year-and-a-half ago. Sources report that the photographs were sold to the sensationalist magazine by the photographer for 1,500,000 ($3000) CFA francs. The arrests were reportedly undertaken upon the orders of Mr. Asane Ndoye, head of the Senegalese Police's Division of Criminal Investigation. It is unclear where the men and women are being held."
Arrests for Senegal 'gay wedding' [bbc]