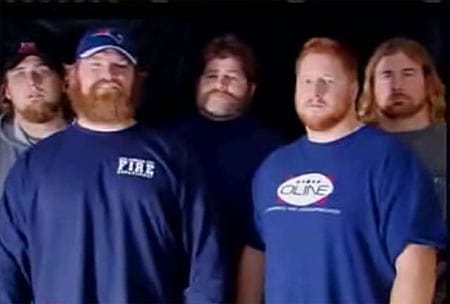 Anybody catch the segment yesterday in the NFL Super Bowl countdown celebrating the beards/bears of the New England Patriots and hosted by none other than Grizzly Adams?
The segment, heralded by trumpets, is amusingly tongue-in-cheek but thoroughly built for bear lovers. The Griz narrated an analysis of "five guys who embody" what a beard means: "The unified facial front of the Patriots offensive line."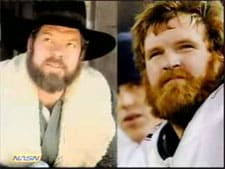 Left tackle Matt Light was compared to Matthew McConaughey. Said Light: "We don't get scared. That's part of a beard." Left guard Logan Mankins' beard was compared to Merlin Olson's. Said Mankins: "It's got a lot of girth on it right now, so…it's a pretty good beard."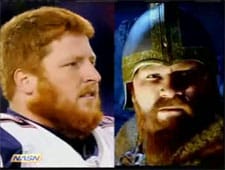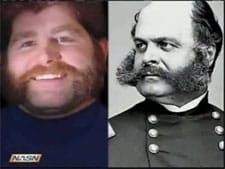 Center Dan Koppen was dubbed the "resident redbeard". Tom Brady said "he looks like he got kidnapped by an Amish family." Right guard Stephen Neal's beard was compared to that of businessman, governor, senator, and civil war general Ambrose Burnside.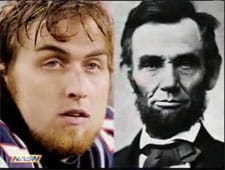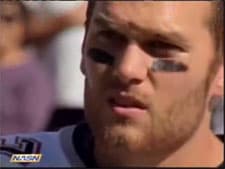 Right tackle Nick Kaczur was told he looked like Abraham Lincoln. Said Kaczur: "I don't really like having upper lip hair really."
Then they launched into Brady. "There was a time when Tom Brady was one of those guys, a time when he wore the robust badge of courage along with his brothers in the trenches. But oh how times have changed.
Said Light: He's actually sported some upper lip plumage over the years. Added Koppen: "He needs to, sort of cover up the butt on his chin that he has, but Tom's one of those guys he's the best dressed person in America, or the world. I don't think us five can sway his personality."
Finally, Grizzly Adams concludes: "The beard. It's become an unbreakable bond of solidarity."
Of course it has. Just ask the guys attending Bear Week in Provincetown, where there's no doubt also plenty of talk about male bonding, girth, butts on chins, and brothers in the trenches.
Here's the clip. Enjoy: