In an interview today with the Washington Blade, editor Kevin Naff asks Hillary Clinton about "critics who say Obama is more likely to address gay issues in front of a non-gay audience." (Obama specifically mentioned gays and lesbians most recently in his MLK Day speech at Ebenezer Baptist Church in Atlanta, and in his speech following Ted Kennedy's endorsement)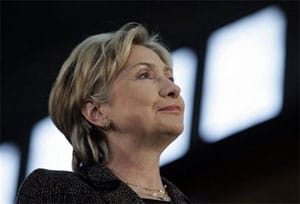 Responds Clinton: "I find it ironic since Sen. Obama had his gospel tour with [Donnie] McClurkin that he and his supporters would take credit for that."
Clinton again defended her position on DOMA. She favors repealing the portion which prohibits the recognition of same-sex couples while Obama favors repealing the entire act.
Says Clinton: "I believe that my position reflects the experience I had fighting against the Federal Marriage Amendment. At the time, I was chair of the Democratic Steering & Outreach Committee and I worked hand-in-hand with [the Human Rights Campaign] and other members of the LGBT community to stop the amendment. We'd already seen the success the Republican majority had had in 2002, 2004 in using this as a wedge issue. I was able to explain to other senators that DOMA ensured marriage would be left to the states — that was critical in defeating the amendment. It gave us an argument with both Republicans and Democrats. We cannot count on the political atmosphere staying favorable. That's something we've learned to our unfortunate detriment and I think we are in a much stronger position to bury forever the Federal Marriage Amendment and other mean-spirited, discriminatory legislation."
Clinton also speaks on 'Don't Ask, Don't Tell,' ENDA, and her willingness to use forceful advocacy towards gay rights measures.
An interview with Hillary Clinton [washington blade]