The West Australian reports that sultry lesbianic things develop between Penelope Cruz and Scarlett Johansson in a darkroom in Woody' Allen's next film: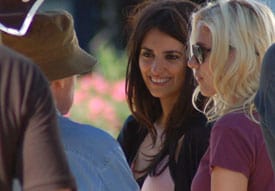 "The sexy actresses will 'leave the audience gasping' with their steamy love scene in Allen's upcoming 'Vicky Cristina Barcelona'…'It is extremely erotic,' a source said. 'People will be blown away and even shocked. Penelope and Scarlett go at it in a red-tinted photography darkroom, and the whole scene will leave the audience gasping.' Later in the film, both women indulge in a threesome with Penelope's real-life boyfriend Javier Bardem."
It's not the first time for Cruz. Cruz was mistakenly thought to have locked lips with her own sister in a recent video for their brother, musician Eduardo Cruz. It later was revealed that Cruz was actually getting busy with actress Mia Maestro.