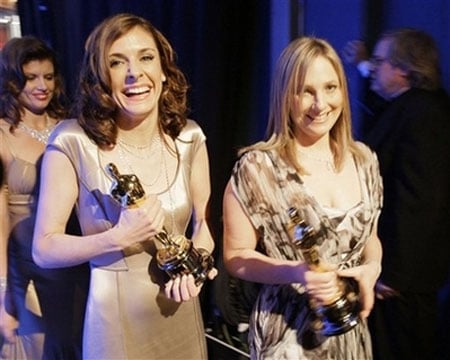 Overall, I thought the Oscar telecast was pretty sluggish, though I was pleased with pretty much all of the winners, particularly Cynthia Wade (left) and Vanessa Roth's Best Documentary win for Freeheld, the story of terminally-ill cancer patient Laurel Hester and her dying battle to have her pension awarded to her female partner of six years. I posted about her courageous story quite a few times on this blog. It was gratifying to see these filmmakers win and definitely the 'gay moment' of the evening (aside from Scott Rudin's shout-out to his partner, "honey").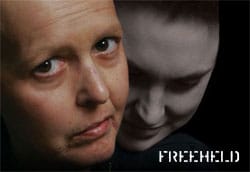 Backstage, after accepting their award, Wade told the media: "I was so moved by the story that I asked my husband to juggle two children, one four months, one five years, and his full time job so I could live with Laurel and Stacie for the last ten weeks of life. Laurel and Stacie helped changed laws in six counties in New Jersey, the ability to win the right for Stacie to have the pension. And nine months after, New Jersey passed the Civil Unions Act ensuring that all couples received the rights. I would say getting involved with a documentary is a marriage. You look at the best subject matter in the face and you say, 'in sickness and in health, for better or worse. I will be completely committed to you.' You film the subject matter and you live, breathe, eat, and sleep it for years, and it becomes one of your most valued relationships."
Also, did anyone else notice that Brad Renfro was left out of the 'in memoriam' clip montage?
See Wade and Roth's acceptance speech AFTER THE JUMP, along with the trailer for Freeheld and a FULL LIST of the Academy Award winners.
Freeheld [official site]
'No Country for Old Men' Wins Oscar Tug of War [tr]
Previously
Laurel Hester Loses Cancer Battle [tr]
Sad Battle of Bigotry Playing Out in New Jersey [tr]
Good News: Ocean County Bigots Relent [tr]
FULL LIST OF OSCAR WINNERS
BEST PICTURE
"Atonement"
"Juno"
"Michael Clayton"
"No Country for Old Men" (Winner)
"There Will Be Blood"
BEST ACTRESS
Cate Blanchett, "Elizabeth: The Golden Age"
Julie Christie, "Away From Her"
Marion Cotillard, "La Vie en Rose"(Winner)
Laura Linney, "The Savages"
Ellen Page, "Juno"
BEST ACTOR
George Clooney, "Michael Clayton"
Daniel Day-Lewis, "There Will Be Blood"(Winner)
Johnny Depp, "Sweeney Todd"
Tommy Lee Jones, "In the Valley of Elah"
Viggo Mortensen, "Eastern Promises"
BEST SUPPORTING ACTRESS
Cate Blanchett, "I'm Not There"
Ruby Dee, "American Gangster"
Saoirse Ronan, "Atonement"
Amy Ryan, "Gone Baby Gone"
Tilda Swinton, "Michael Clayton" (Winner)
BEST SUPPORTING ACTOR
Casey Affleck, "The Assassination of Jesse James by the Coward Robert Ford"
Javier Bardem, "No Country for Old Men"(Winner)
Hal Holbrook, "Into The Wild"
Philip Seymour Hoffman, "Charlie Wilson's War"
Tom Wilkinson, "Michael Clayton"
BEST DIRECTOR
Paul Thomas Anderson, "There Will Be Blood"
Joel Coen and Ethan Coen, "No Country for Old Men" (Winner)
Julian Schnabel, "The Diving Bell and the Butterfly"
Tony Gilroy, "Michael Clayton"
Jason Reitman, "Juno"
BEST ORIGINAL SCREENPLAY
Diablo Cody, "Juno" (Winner)
Nancy Oliver, "Lars and the Real Girl"
Tony Gilroy, "Michael Clayton"
Brad Bird, Story by Jan Pinkava, Jim Capobianco, Brad Bird, "Ratatouille"
Tamara Jenkins, "The Savages"
BEST ADAPTED SCREENPLAY
Paul Thomas Anderson, "There Will Be Blood"
Christopher Hampton, "Atonement"
Ronald Harwood, "The Diving Bell and the Butterfly"
Joel Coen and Ethan Coen, "No Country for Old Men"(Winner)
Sarah Polley, "Away From Her"
BEST FOREIGN LANGUAGE FILM
"Beaufort" (Israel)
"The Counterfeiters" (Austria) (Winner)
"Katyn" (Poland)
"Mongol" (Kazakhstan)
"12" (Russia)
BEST ANIMATED FILM
"Persepolis"
"Ratatouille"(Winner)
"Surf's Up"
BEST ART DIRECTION
"American Gangster"
"Atonement"
"The Golden Compass"
"Sweeney Todd: The Demon Barber of Fleet Street"(Winner)
"There Will Be Blood"
BEST CINEMATOGRAPHY
"The Assassination of Jesse James by the Coward Robert Ford" Roger Deakins
"Atonement," Seamus Mcgarvey
"The Diving Bell and the Butterfly," Janusz Kaminski
"No Country For Old Men," Roger Deakins
"There Will Be Blood," Robert Elswit (Winner)
BEST COSTUME DESIGN
"Across the Universe," Albert Wolsky
"Atonement," Jacqueline Durran
"Elizabeth: The Golden Age," Alexandra Byrne (Winner)
"La Vie En Rose," Marit Allen
"Sweeney Todd: The Demon Barber Of Fleet Street," Colleen Atwood
BEST DOCUMENTARY FEATURE
"No End in Sight"
"Operation Homecoming: Writing the Wartime Experience"
"Sicko"
"Taxi to the Dark Side" (Winner)
"War/Dance"
BEST DOCUMENTARY SHORT SUBJECT
"Freeheld" (Winner)
"La Corona" ("The Crown")
"Salim Baba"
"Sari's Mother"
BEST FILM EDITING
"The Bourne Ultimatum," Christopher Rouse (Winner)
"The Diving Bell and the Butterfly," Juliette Welfling
"Into the Wild," Jay Cassidy
"No Country for Old Men," Roderick Jaynes
"There Will Be Blood," Dylan Tichenor
BEST MAKEUP
"La Vie en Rose" (Winner)
"Norbit"
"Pirates of the Caribbean: At World's End"
BEST ORIGINAL SCORE
"Atonement", Dario Marianelli (Winner)
"The Kite Runner", Alberto Iglesias
"Michael Clayton", James Newton Howard
"Ratatouille", Michael Giacchino
"3:10 to Yuma", Marco Beltrami
BEST ORIGINAL SONG
"Falling Slowly" from "Once" (Winner)
"Happy Working Song" from "Enchanted"
"Raise It Up" from "August Rush"
"So Close" from "Enchanted"
"That's How You Know" from "Enchanted"
BEST ANIMATED SHORT FILM
"I Met the Walrus"
"Madame Tutli-Putli"
"Même Les Pigeons Vont au Paradis (Even Pigeons Go to Heaven)"
"My Love (Moya Lyubov)"
"Peter & the Wolf" (Winner)
BEST LIVE ACTION SHORT FILM
"At Night"
"Il Supplente (The Substitute)"
"Le Mozart des Pickpockets (The Mozart of Pickpockets)" (Winner)
"Tanghi Argentini"
"The Tonto Woman"
BEST SOUND EDITING
"The Bourne Ultimatum" (Winner)
"No Country For Old Men"
"Ratatouille"
"There Will Be Blood"
"Transformers"
BEST SOUND MIXING
"The Bourne Ultimatum" (Winner)
"No Country For Old Men"
"Ratatouille"
"3:10 to Yuma"
"Transformers"
BEST VISUAL EFFECTS
"The Golden Compass" (Winner)
"Pirates of the Caribbean: At World's End"
"Transformers"