Carl Stanley McGee. a 38-year-old aide to Massachusetts Governor Deval Patrick, has been charged with sexually assaulting a 15-year-old male at a steam room in December at the Gasparilla Inn on the island of Boca Grande on Florida's west coast, the Boston Globe reports: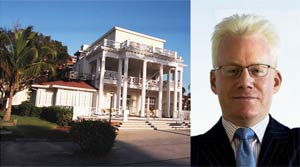 "According to police reports, McGee was arrested Dec. 28 and accused of performing oral sex on the 15-year-old, who was a guest at The Gasparilla Inn & Club, a 95-year-old hotel and championship golf course in Boca Grande. McGee was held overnight on a $300,000 bond. Few state employees were aware of the arrest. An account had appeared in the local newspaper, the Boca Beacon. McGee's co-workers said they had been told he was out sick. McGee, whose annual salary is approximately $150,000, could not be reached for comment. His lawyer, Charles Rankin, did not return phone calls from the Globe."
Friends and supporters of McGee told the Globe they don't believe the incident happened. McGee allegedly masturbated and performed oral sex on the teenager, who later identified him to police.
The Globe adds: "McGee, a former Rhodes scholar and Harvard Law School graduate, was previously a corporate lawyer at the law firm WilmerHale. He was instrumental in the movement seeking to defeat efforts to overturn legalization of same-sex marriage, serving as director of the civic and business outreach efforts of the advocacy group MassEquality. A year after same-sex marriage became legal in Massachusetts in May 2004, McGee's wedding to John Finley IV was highlighted in the 'Vows' section of The New York Times. Former state senator Jarrett T. Barrios officiated."
McGee was placed on administrative leave January 7th and is scheduled to be arraigned on February 11th.
Key aide to Patrick accused of sex assault [boston globe]
Boston man faces assault charges [boca beacon]
(via wonkette)