Gay City News reports that a 50-strong group of transgender supporters picketed HRC's New York dinner on Saturday, while inside President Joe Solmonese defended the group's trans-exclusive position on ENDA.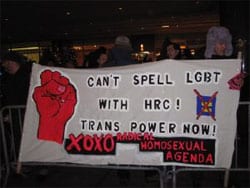 Said Solmonese: "I understand and I hear every day that some members of our community are feeling forgotten or left behind. It is easy to understand why. We have to overlook our differences and we have got to see instead of our individual wants and immediate desires… a vision for the America that we all want to live in…I have to ask myself: When did we all become so impatient? When did we say to ourselves, okay that civil rights thing, I'll give it a year, maybe two, then I'm done. Let me be very clear: No, we are not done. We are in the grueling, blinding middle of this fight and the middle of this fight is the hardest part…Some of us may want to stand back or check out, but there is no standing back. There is no checking out. Because sometimes — and I know this is frustrating — the fight for our rights feels like hell, but as Winston Churchill so aptly put it, 'When you are going through hell the most important thing is to keep going.'"
Gay City News also notes that missing from the dinner were many elected officials who had attended in the past, many of whom cited "scheduling conflicts" as their reason for not attending. How many of those absences had to do with the ENDA position is unclear.
Snubbed by NYC Pols, HRC Answers Its Critics [gay city news]