The new season of the CW's Beauty and the Geek will feature an out gay man for the first time, "self-proclaimed Gaysian" and pastry chef Greg from Azusa, California.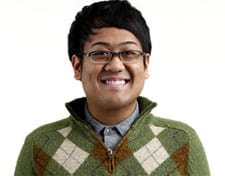 Via the Futon Critic: "Among the new challenges, the geeks will be in-studio guests with Dr. Drew on the nationally syndicated radio program 'Loveline' and will learn if they have an eye for fashion when providing make-unders to the beauties. The beauties go where they have never gone before when they get all dolled up in their best plumbing outfits and learn to clean clogged pipes. They also join the geeks for a cameo on the #1 daytime drama 'The Young and the Restless.' Each of the previous seasons resulted in an unlikely romantic connection between a beauty and a geek."
The new season starts March 11.