Rep. Scott Pelath, D-Michigan City, did as he promised and refused to hear Senate Joint Resolution 7, legislation that included a ban on same-sex marriage, effectively killing the measure as it is required to pass in two consecutive legislatures to get on the ballot.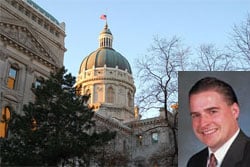 The Indianapolis Star reports: "Pelath and opponents argue the state already has a law banning same-sex marriages and that the amendment's language was ambiguous and could result in unintended consequences on issues ranging from domestic violence protection to businesses' ability to recruit employees. 'This really is a very simple decision,' Pelath said. 'The reality is, we have no gay marriages in Indiana. It is against the law. Nobody has brought me evidence of a gay marriage taking place in this state. There's no reason to put very poorly crafted verbiage into our constitution, out state's highest document, that could potentially be a lawyer's dream with all sorts of unintended consequences.' Eric Miller, founder of the conservative activist group Advance America, blames Bauer, who he said has intentionally sent the amendment to Pelath's committee to kill it. 'It is a tragedy for the people of Indiana that one man — Speaker Pat Bauer — stopped the 100 members of the House being able to vote to protect marriage and prevented the citizens of Indiana from having the opportunity to vote to protect marriage,' Miller said. 'It's not only a disappointment, it's wrong.' Pelath rejected that argument. 'That's not what our constitution says. It doesn't just say you throw out an idea and you throw it out for a vote — that's not how we do it,' he said. 'We don't send everything up for referendum here. We make decisions and do our jobs. I'm abiding by the constitution.'"
If the measure passed the next two legislatures, voters might have a chance to vote on it in 2012.