Ugly Betty's Vanessa Williams and Wicked's Idina Menzel are scheduled to appear at a Human Rights Campaign dinner on February 23rd at the New York Hilton, but transgender groups unhappy over the group's position on ENDA are reportedly trying to derail the appearances.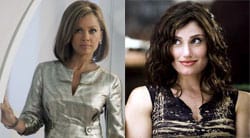 Via the New York Post: "Both are scheduled to appear at the Human Rights Campaign dinner Feb. 23 at the New York Hilton. The problem is that many homosexual organizations are upset with HRC because the group supported an effort to pass a gay-rights bill that left out the transgender community, which includes pre-op and post-op transsexuals. The pro-transgender activists promise a picket line of demonstrators at the event, and Menzel and Williams are being urged to cancel their appearances."
Williams, who stars opposite Rebecca Romijn's transgender character on Ugly Betty, is scheduled to receive HRC's 'Ally for Equality' award, and Menzel is scheduled to perform at the gala event.