Knesset Member Shlomo Benizri is apparently the Pat Robertson of Israel. Robertson is known for his statements associating the acceptance of gays with natural disasters. On Wednesday, Benizri made a statement blaming homosexuality for earthquakes in reaction to a strong tremor that was felt across the nation last Friday.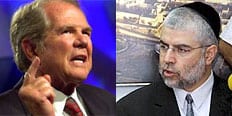 "The recent earthquake that was felt across Israel was the result of the 'homosexual activity practiced in the country', Knesset Member Shlomo Benizri said Wednesday. During a special Knesset session on Israel's preparedness for the possibility of another earthquake hitting the region, the Shas member said "the Gemara refers to earthquakes as disasters, but you are searching only for the practical solutions how to prevent and repair. 'But I no of another way to prevent earthquakes; the Gemara mentions a number of causes of earthquakes, one of which is homosexuality, which the Knesset legitimizes,' Benizri said. An earthquake registering 5.3 on the Richter Scale was felt by residents across Israel at 12:36 pm Friday. The trembling lasted for 19 seconds and shook structures in many major towns and cities."
Said Mike Hammel, chairman of the Israeli Gay, Lesbian, Bisexual and Transgender Association: "It is sad that a religious MK in Israel doesn't think earthquakes are God-made. On the other hand, I suppose we should be flattered he attributes us with such magical powers."
Perhaps Benizri was feeling threatened by the recent advances Israel has made with regard to gay people, specifically the ruling earlier this month that will allow gays and lesbians to begin adopting children in the country.
Homosexual activity cause of earthquake, Shas MK says [ynet]
recently
Israeli Attorney General Mazuz: Let Gay Couples Adopt [tr]