Gay blogger and activist Keith Boykin has launched The Daily Voice, a sort of 'Huffington Post' with a focus on the African-American community.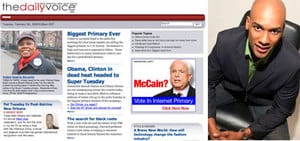 Writes Boykin on his final blog post: "It's the most exciting media project I've been involved with in my entire life, and I'm thrilled to be in the middle of the cutting edge plans for the site…The Daily Voice is not a gay site. Or a straight site. But rather it's a place for all of us to come together in the African American community. Whether you're male or female, gay or straight, young or old, Republican or Democrat, we want to hear your voices. I see this as a space where Rev. Jesse Jackson may contribute one day and then Clarence Thomas the next. (And you all know what I think about Clarence Thomas.) Still, this new project is much bigger than me. It's about us, our community, our people coming together as one. This past weekend, as I watched the new Barack Obama music video, 'Yes We Can,' I suddenly felt inspired again. I remembered what it felt like to believe that anything is possible. I remembered what it felt like not to listen to the cynics and the naysayers. And I remembered the awesome power we have inside of us when we only dare but to dream."
We wish him the best in his new endeavor.
The Daily Voice [official site]