Madonna made her directorial debut at the Berlin Film Festival last night with Filth & Wisdom.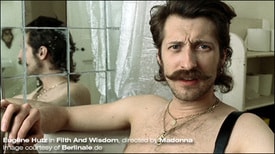 Agence France Presse reports: "Critics have already begun sharpening their pencils at the prospect of 'Filth and Wisdom' which revolves around a Ukrainian immigrant who finances his dreams of rock stardom by moonlighting as a cross-dressing dominatrix, and his two female flatmates. Madonna, who will add some welcome star power to what has been a rather lacklustre Berlinale, has been less than timid about her ambitions as a filmmaker. 'I have always been inspired by the films of Godard, Visconti, Pasolini and Fellini and hope that I may one day make something that comes close to their genius,' she said in a her director's statement for Wednesday's premiere. Billed as a London-based comedy, 'Filth and Wisdom' stars Eugene Hutz, the Ukrainian frontman for Gypsy punk rock band Gogol Bordello, as well as British cult star Richard E. Grant."
Here are five clips from the film.
UPDATE: The first review is in. "Yet despite its many shortcomings and an ending so mushy and neat it would embarrass Richard Curtis, Madonna has done herself proud. Her film has an artistic ambition that has simply bypassed her husband, the film director Guy Ritchie. She captures that wonderfully accidental nature of luck when people's lives intersect for a whole swathe of unlikely but cherishable reasons. Altmanesque would be stretching the compliment too far, but "Filth and Wisdom" shows Madonna has real potential as a film director."
Previously
Madonna's Directorial Debut Boasts Filth, Wisdom, Large Mustache [tr]
(source)