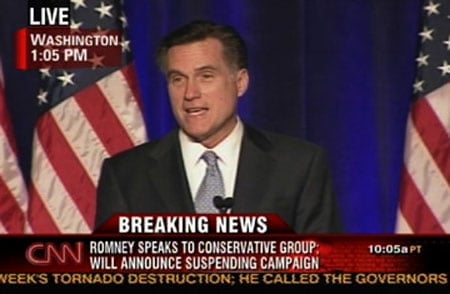 Mitt Romney has dropped out of the presidential race. In a speech announcing he's suspending his campaign, he also took the time to ponder the "attacks on our culture," among them gays and lesbians who want to marry and the "liberal judges" who would give us equal rights.
Said Romney: "The development of a child is enhanced by having a mother and father. Such a family is the ideal for the future of the child and for the strength of a nation. I wonder how it is that unelected judges, like some in my state of Massachusetts, are so unaware of this reality, so oblivious to the millennia of recorded history. It is time for the people of America to fortify marriage through constitutional amendment, so that liberal judges cannot continue to attack it!"
Well, John McCain is the nominee.
Text of Romney speech [time]