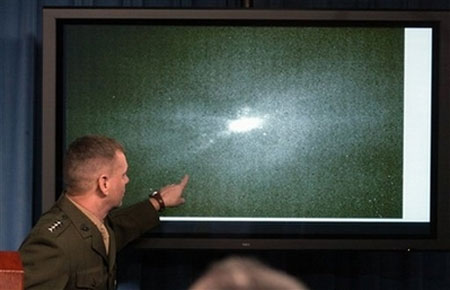 As you may have heard, last night the Navy was successful in intercepting an errant spy satellite that was spinning out of control and was scheduled to re-enter Earth's atmosphere during the first week of March. The satellite was filled with toxic rocket fuel and might have posed a threat to civilians on the ground had it been allowed to crash.
Several nations expressed concern that the move by the U.S. was simply a military test intended to demonstrate its anti-satellite capabilities and would threaten security in outer space.
Following the event, fireballs were reportedly seen over western Canada as fragments of the satellite entered the atmosphere. With last night's lunar eclipse, it must have been some show.
Here's the first video of the strike.
Video of the Pentagon briefing AFTER THE JUMP…
Pentagon Says It's Confident Missile Hit Satellite Tank [nyt]