Michael Eisner says deal has been reached in writer's strike.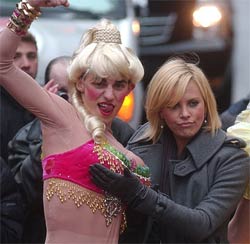 Charlize Theron impressed by breasts of Harvard's Hasty Pudding drag boys.

Anti-gay Pastor Ken Hutcherson's wife attends school board meeting to discuss public reaction since her Hutcherson appeared at Mount Si High School on Martin Luther King, Jr. Day: "My family is boldly called names like 'bigot', 'homophobe' and we've been permanently branded in the valley."

Wouldn't a divorce have been simpler, loser?

Speakers exchange "verbal fisticuffs" in Florida in debate over gay marriage ban.

Forces against same-sex marriage in Maryland vow to step up their attacks: "Del. Donald H. Dwyer Jr. is circulating a petition to take a constitutional amendment banning gay marriage directly to the floor of the House of Delegates without a committee vote. He also is seeking signatures to bring to the House floor a bill that would legalize same-sex marriage. While the Anne Arundel Republican is a fervent gay-rights opponent, he said Marylanders deserve to know their legislators' views. 'It's only when the votes are cast that we really know where people stand,' Dwyer said."

Gawker takes on Barry Diller…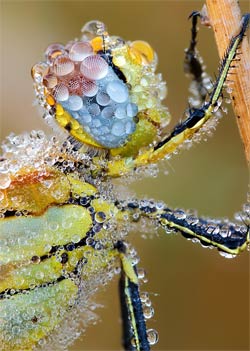 Gorgeous shot of a bug covered in dew (via kottke)

BBC: Hundreds of gay Asians in marriages of convenience because of the shame faced in Asian cultures: "In my culture it's not acceptable to be gay. If I have a marriage of convenience it will give them the illusion that I'm straight and I can carry on with who I want."

TJ Maxx courting the gay dollar? What about those who are versatile?

Gay Christian man wins £47,000 in compensation from the Church of England: "John Reaney took the Hereford diocesan board of finance to an employment tribunal after his appointment as a youth worker was blocked. Bishop of Hereford Anthony Priddis has apologised and gay rights group Stonewall said the "substantial compensation" sent a clear message. Mr Reaney, from Colwyn Bay, Conwy, said he was delighted the case was over. 'Lesbian and gay Christians working within the Church of England are entitled to be treated with humanity,' said Mr Reaney, 42. 'I'm very grateful to Stonewall for supporting this case throughout.'"

Former Washington state Rep. Richard Curtis returning checks to campaign donors.

Lance Bass and beau on the rocks?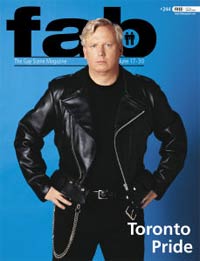 Toronto gay mag FAB bought up by Pink Triangle Press: "Pink Triangle Press is also publisher of the Ultimate Pride Guides in Toronto, Vancouver and Ottawa, as well as international gay travel mag The Guide. The combined circulation of PTP's print pubs is now 156,000, with a reach of about 275,000 monthly readers. Along with its operations in Internet, television and interactive media, PTP's total reach in the gay community is over half a million."

School ends blood drives because of anti-discrimination policy on sexual orientation: San Jose State University President Don Kassing suspended all on-campus blood drives last week, claiming federal donation guidelines that forbid gay men from donating blood conflict with the school's non-discrimination policy regarding sexual orientation. Kassing announced his decision to end blood drives in a Jan. 31 email to students. 'I recognize the importance of giving blood and we know that universities are significant sources of blood . . . however lacking further action by the FDA, we are guided by the clear mandates of our non-discrimination policy,' Kassing said in the email.

Justin Timberlake to hit the "Open Road" in new movie: "According to Variety, the 27-year-old Sexyback singer will play a young man trying to reconnect with his father (Jeff Bridges), a legendary athlete, as he struggles to get him home to his ailing mother's bedside (Mary Steenburgen)."

Val Kilmer to be the voice of K.I.T.T. in the new Knight Rider.