It was a brutal weekend for Hillary Clinton as Barack Obama took contests in Washington state, Nebraska, Louisiana, Maine, and the U.S. Virgin Islands. Following the victories, Obama addressed a crowd at the Virginia Jefferson-Jackson Dinner (above). The wins allowed Obama to pull ahead of Clinton in a delegate count, according to CBS News: "In the delegate chase, Obama has pulled ahead of Clinton, even when the support of uncommitted super delegates is figured in. According to CBS News estimates, Obama holds a razor-thin lead with 1,134 delegates overall to 1,131 for Clinton."
Obama was down in all four pre-caucus polls in Maine yet pulled out a victory.
The Clinton campaign responded to the losses with a shake-up of its top leadership. Patti Solis Doyle, Clinton's campaign manager, said she was stepping down but would remain as a senior advisor.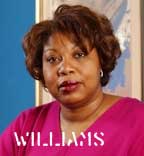 Clinton replaced Doyle with longtime aide Maggie Williams.
Said Clinton on her website: "Patti Solis Doyle has done an extraordinary job in getting us to this point – within reach of the nomination – and I am enormously grateful for her friendship and her outstanding work. And, as Patti has said, this already has been the longest presidential campaign in history and one that has required enormous sacrifices of everyone and our families. I look forward to her continued advice in the months ahead. Patti and I have worked with Maggie Williams for more than a decade. I am lucky to have Maggie on board and I know she will lead our campaign with great skill towards the nomination."
Next up are Washington, D.C., Maryland and Virginia this Tuesday, but things aren't looking great for Clinton there either: "Obama has hearty leads and distinct demographic advantages in each of the three contests…[Clinton] has campaigned hard in Virginia, where her campaign has a strategy to keep things competitive, but it's already looking ahead to March 4 contests in Ohio and Texas as a firewall of sorts. Obama leads Clinton in Virginia by 53 percent to 37 percent, according to a poll released Sunday by Mason-Dixon."
Obama's winning streak even continued at the Grammy Awards, where he beat out the other Clinton, Jimmy Carter, Maya Angelou, and Alan Alda to win a spoken word Grammy for his book "The Audacity of Hope: Thoughts on Reclaiming the American Dream."