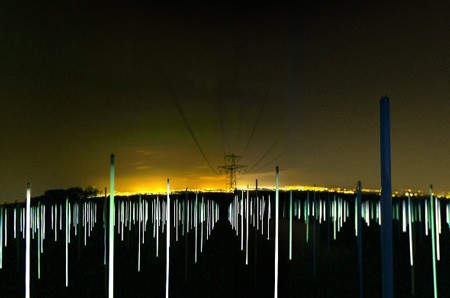 In this week's tech news, Jon Barrett looks at the newest application designed to facilitate online activism, a ship of sinking Mazdas, 3-D maps of the moon, composting, and the first videogame to utilize Microsoft's 'surface' multi-touch technology which may appeal to those of you who spent your childhood evenings trapping lightning bugs in the backyard.

These 1,301 glowing florescent bulbs aren't plugged in, they're planted in a field in England and are being powered by the magnetic field produced by the power lines above. See more photos here.

Apple updated its MacBook Pro computer this week, most notably by adding a multi-touch pad. But if you're planning on buying one and you live in New York City's Williamsburg neighborhood, be careful. One Mac owner this week told Gawker about a house burglary —where the burglar took all the Apple products in the apartment but left behind a Dell notebook computer.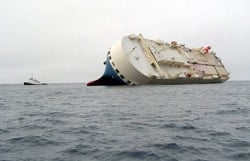 Wired.com's Joshua Davis has a terrific feature up about the Cougar Ace, a cargo ship that flipped on its side in Alaskan waters. The piece, which includes a video, describes a sea-salvage team's efforts to save the boat and its cargo—millions of dollars in Mazdas.

A Facebook application launched this week is taking a new approach to online activism. Called Ultimatums, it lets users float an idea, set an arbitrary "tipping point," and then track group members' commitment to the common goal. As Wired.com's Underwire describes: "Instead of abstract ideas (like Facebook group Make Poverty History), Ultimatums lets users set concrete goals. The end result is a straightforward app designed to transform a vibrant online community into a vehicle for specific social change. For example, one group calls for Wal-Mart to provide health care benefits for its employees. If a million users sign up, all million pledge to boycott the company if the demand isn't met. Each ultimatum is an online petition created by users that requires a tipping point of participants to induce action."
And when you're not busy changing the world, check out this video: How to Not Get Caught on Facebook.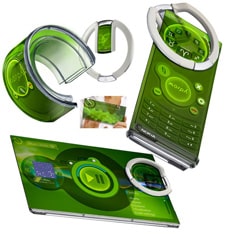 Nokia and the University of Cambridge are showing off a new concept for a stretchable and flexible mobile device called Morph. The new concept phone, which is part of an online display in conjunction with the "Design of the Elastic Mind" exhibit at the Museum of Modern Art in New York City, uses nanotechnology to allow users to "morph" the device into whatever shape the want.

If you want to compost but live in an apartment, check out this indoor compost, called NatureMill. It will process up to 120 pounds of food per month, and a red light will shine when the compost is ready to use—whether it's for your houseplants or your window garden. And don't worry about the smell; a built-in carbon filter absorbs the odor.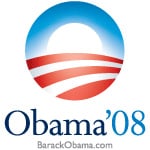 Seems that Obama-mania has resulted in a shortage of campaign paraphernalia, leading one supporter to create ObamaCycle, which is being touted as sort of a Craigslist for supporters of the Democratic presidential candidate. The site, which has nearly 900 registered users, is aimed at reusing Obama campaign materials rather than throwing them away. Users, who have to register and create a profile, can leave messages to each other on the site and advertise their material needs and offers on the front page.

TOWLETECH TUBE
ANDROID'S STREET VIEW: Things are progressing quite well for the Google phone.
CYBER CELEBRITY: A new vlog examines the phenomenon.
MOONSCAPE: A 3D map of the moon.
SURFACE APPEAL: A demo of Firefly, the first-ever game developed for Microsoft's Surface.