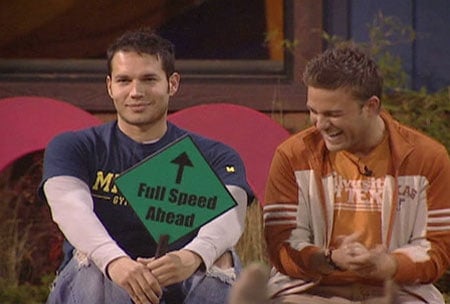 For those of you who have been watching Big Brother 9 (which has been pretty great so far) some rather stunning developments happened after last night's show on the live feeds concerning gay team Neil and Joshuah.
SPOILERS – Do not read any further if you don't want to read SPOILERS…
AFTER the jump…
When the live feeds came on last night. Neil was gone, and Joshuah was seen packing Neil's suitcase and crying. No explanation was given.
Via GuyTVBlog: "It turns out that one of the guys, I can't remember who, reveals to other houseguests that Joshuah and Neil had their FIRST KISS in the kitchen earlier last night. Then sometime later Neil gets called into the Diary Room and is apparently told something, no one knows for sure. He NEVER comes back into the house. Joshuah is then called into the Diary Room and is told that his partner Neil is no longer part of the game. Allison Grodner, Big Brother 9's Executive Producer, apparently told Joshuah that he now has to pick between eliminated houseguests Jacob or Sharon to be his new partner. Joshuah makes his pick and then leaves the Diary Room. The houseguests are gathered in the living room and are told that Neil is no longer part of the game. No one is talking about the reason but Neil is OUT. They then tell the houseguests that a replacement player will enter the house. Everyone at this point apparently shouted out with happiness except Joshuah, being highly emotional, is fucking livid that everyone has quickly forgotten about Neil. So in walks Joshuah's replacement… Sharon! Joshuah escapes to the bedroom where he and Neil slept together for the game and starts packing Neil's personal belongings, as instructed. Later in the night we find out from Joshuah that when he walked into the Diary Room that Neil's cup and microphone was left on the couch. Joshuah is upset that he didn't even get to say goodbye to Neil. Joshuah also reveals he was crying for about 20 minutes while the BB people were asking for Joshuah to make a decision as to who he wanted to be his new partner. Around dinner time Joshuah is still so emotional that he can not eat with his houseguests so he goes into the Sauna room to eat by himself, of course later he is joined by one of his alliance members, Chelsia. At one Chelsia tells Joshuah… "God I hope everything is okay with him… It's going to be so weird, everyone was sitting there and Neil was like 'Oh Hey!' in his Gay Little Voice!" BITCH! Joshuah doesn't take the comment personally because he's just this huge emotional trainwreck."
Boo! I do not like this development.
More here with a few screencaps.
Silly Hamsters blog reports that apparently Neil's reason for leaving had something to do with his family and was voluntary.