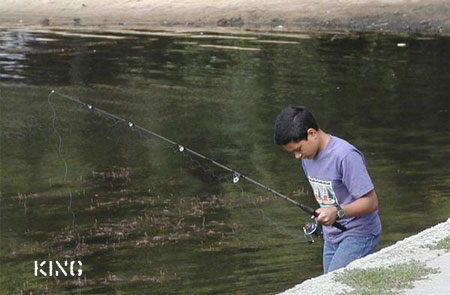 Brandon McInerney, a 14-year-old eighth-grader, has been charged with attempted murder as a hate crime in the shooting death of Lawrence 'Larry' King. The charges are expected to be upgraded to murder once King is taking off his ventilator, which is keeping his body alive so that he may donate his organs. McInerney is to be tried as an adult. McInerney reportedly turned 14, which is the cutoff age to be tried as an adult, on January 24th.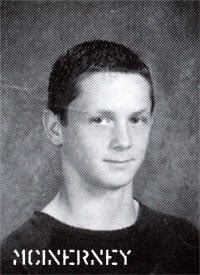 King was shot in the head in front of a full classroom of students. It still has not been disclosed where McInerney got the gun that he snuck into the classroom.
According to King's father, when King arrived at the hospital he was making some unintelligible sounds but doctors quickly induced a coma as part of his treatment. He survived for six hours but then suffered a massive stroke, which caused his brain to swell, and ultimately, his death.
Via the AP: "[Ventura County prosecutor Maeve] Fox said she could not discuss the facts behind the allegation of a hate crime because those details of the case have not been publicly disclosed. Oxnard police have not specified a motive but said there appeared to be a personal dispute between the two. King sometimes came to school wearing makeup and high heels, eighth-grader Nicholas Cortez, 14, told The Associated Press. Another eighth-grader, Michael Sweeney, said King's appearance was 'freaking the guys out,' the Los Angeles Times reported Thursday. 'He would come to school in high-heeled boots, makeup, jewelry and painted nails — the whole thing,' Sweeney told the Times."
The L.A. Times reports that "classmates of the slain boy, Lawrence King, said he recently had started to wear makeup and jewelry and had proclaimed himself gay. Several students said King and a group of boys, including the defendant, had a verbal confrontation concerning King's sexual orientation a day before the killing."
The paper adds, "Because he is a minor, McInerney will remain in Juvenile Hall and be taken to the Ventura courtroom for court appearances, Fox said. He is being held in lieu of $770,000 bail. If convicted, McInerney could face 50 years to life. The hate crime enhancement would add another one to three years to his sentence."
Up top is a shot of King provided to the media by his family. His father explained that "In Port Hueneme, he used licorice sticks to catch crawdads."
The Ventura County Star reports: "He said his son was headstrong, confident, artistic and sweet. Larry King loved to sing songs by folk rock trio Crosby, Stills and Nash, and was studying 'The Star-Spangled Banner' in hopes of singing it at his younger brother's baseball games, his father said. 'He had a very gifted singing voice.' He was so good, in fact, that one of Greg King's friends — unaware of the family's tragedy — called Wednesday to say his son should audition for 'American Idol.'"
Oxnard school shooting called a hate crime [la times]
Charges Filed in SoCal School Shooting [ap]
Victim's family members say they will donate teen's organs [ventura county star]
You may have missed…
Gay Junior High Student Shot at School Declared Brain Dead [tr]
Gay Student Shot at L.A.-Area Junior High School [tr]