Reverend Ted Haggard, the New Life church pastor who agreed to undergo a "spiritual restoration" aka "pray the gay away" following revelations that he was involved with escort Mike Jones, has reportedly quit that program and cut ties with his old church.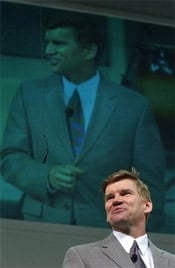 Haggard was forced from his position as the head of the megachurch following his admission of "sexually immorality" after Jones came forward saying the pastor paid him for sex over a period of three years.
The Denver Post reports: "Ted Haggard's leadership of New Life Church for many years was extraordinary and the depth of spiritual maturity that is found today in the church is in large part attributed to his leadership as the founding senior pastor," the statement said, adding that the church's 'overseers' and 'restorers' would not make further comment about Haggard's 'spiritual restoration.' New Life added that Haggard has joined another mega-church, Phoenix First Assembly of God, and that its founding pastor, Tommy Barnett, is overseeing an 'accountability relationship' with the disgraced Colorado pastor. Barnett could not be reached Tuesday night. New Life has been at odds with its former pastor since he left. In its statement Tuesday night, church officials said, 'New Life recognizes the process of restoring Ted Haggard is incomplete and maintains its original stance that he should not return to vocational ministry. However, we wish him and his family only success in the future.'"
Just one year ago today, a four-member oversight board announced that after three weeks of intense counseling that Haggard was "completely heterosexual".
New Life cuts last ties with Haggard [denver post]
Haggard Quits Re-Straightifying Program [joemygod]
Previously
Church Overseers to Ted Haggard: Get a Job [tr]
Exodus: Ted Haggard Moves to Arizona for "Fresh Start" [tr]
New Life Church Holds 'Day of Hope' for Ted Haggard [tr]