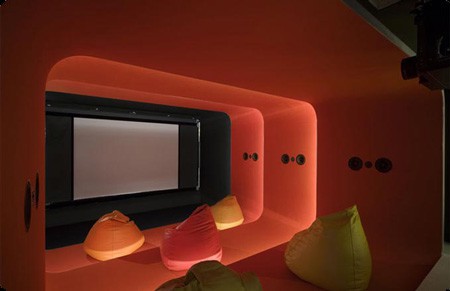 Pentagram Architects partner James Biber took his inspiration from Radio City Music Hall and 2001: A Space Odyssey when he created this home theater in Montauk, New York. As Coolhunter reports, the space includes a series of felt-covered arches and 600 five-watt dimmer-controlled light bulbs "that provide a soft ambient light for when you need to find that elusive remote control."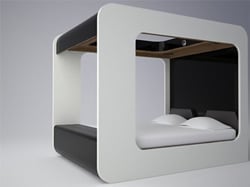 And for those of you who can't bother rolling out of bed to watch TV, surf the Web, or listen to tunes—here's the Hi-Can High Fidelity Canopy. Details are sketchy on the concept for this all-in-one bed/entertainment system. But the video says it's "coming soon," so there's hope for the bed-potato in us all.

Used to be that Wii bowling and tennis were considered a workout. Now Nintendo is introducing Wii Fit, a game that will have players engage in exercise-like activities, including yoga and low-impact calisthenics. Already a hit in Japan, where 1.4 million units have been sold, Wii Fit will go on sale here on May 19.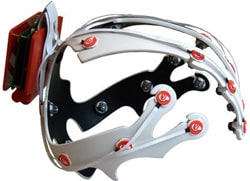 If you think the Wii is interactive, wait until you try out the $299 EPOC Neuroheadset. The headset, which was designed to control gameplay by reading your thoughts, was unveiled this week at the Game Developers Conference in San Francisco and is supposed to hit stores by year's end.

Apple has slashed the price of its 1GB iPod Shuffle to $49 and introduced a new 2GB model for $69. And in case you're looking to get rid of an old 'pod, the company also announced a recycling program for computers, iPods, and cell phones.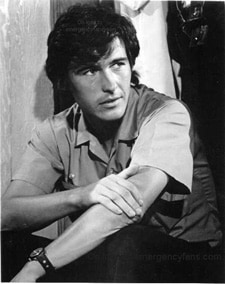 I can't be the only one out there who had a childhood crush on Randolph Mantooth, who played one of the paramedics on the 1970s TV show Emergency! So NBC Universal must have had more than me in mind when it announced this week that it would begin streaming full episodes of Emergency! and a bunch of other old shows on its web sites, including NBC.com, SciFi.com, ChillerTV, and SleuthChannel.com. Some of the other programs to get the dotcom treatment beginning this month: The A-Team, Kojak, The Alfred Hitchcock Hour, Miami Vice, Buck Rogers, Night Gallery, and the original Battlestar Galactica.

Scientists in New York have developed a paper-thin material that absorbs 99.955 percent of the light that hits it, making it the darkest substance ever made. The Washington Post reports: "The material, made of hollow fibers, is a Roach Motel for photons—light checks in, but it never checks out. By voraciously sucking up all surrounding illumination, it can give those who gaze on it a dizzying sensation of nothingness."
Meanwhile, in Germany they're exhibiting a LED device that overwhelms security cameras, essentially "allowing you to move through modern society in relative privacy," Boing Boing reports.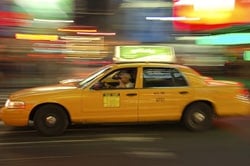 Every taxi cab in New York City will have to be a hybrid by 2012, and the predominate Crown Victoria, which gets about 14 mpg will be relegated to the trash heap of history. So the city has launched the Taxi of Tomorrow initiative to help create a blueprint for what the next cabs will be. Reports Wired.com's Autopia: "The city wants to get an idea of what's possible before it decides what it wants. But Mayor Bloomberg has made this a top priority, and [Matthew] Daus [chairman of the city's Taxi & Limousine Commission] says there will be some firm guidelines—if not a detailed proposal—on the table before Bloomberg leaves office in 2009.

The ghost of Judy Garland visits Make Magazine's Maker's Faire.

And you thought writing notes to yourself on the palm of your hand was so 20th century. Check out the To-Do Tattoo.
(via Popgadget)

TOWLETECH TUBE
RABBIT RESCUE: Amy Sedaris takes care of business.
NANO VISION: magnifies movies on your nano.
TOO FAR FOR FAME: A viral video spoof (audio NSFW).
NO-FAIL ALARM CLOCK: Test your math skills and your patience.