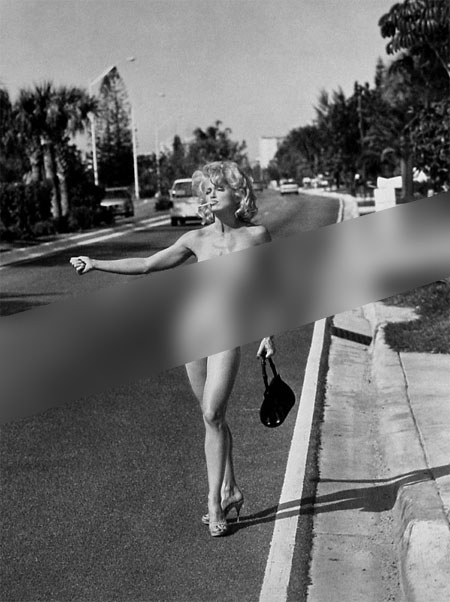 A Las Vegas man and his wife spent four months 'authenticating' a lost photo of Marilyn Monroe he had found in storage at his home, called in a Monroe expert who made a positive identification, and scheduled a news conference, only to be told that it was a well-known Steven Meisel photo from Madonna's 1992 Sex book.
"Lawrence Nicastro, 73, said he found the grainy, poster-size photo last year while going through storage items at his home in Las Vegas. He believed it had been left by a customer at his service station in the Bronx in 1962. Nicastro and his wife, Phyllis, said they had spent about four months researching the origin of the photograph and called in Chris Harris, a publicist and Monroe expert, for help authenticating it. Harris said it was a dead ringer for Monroe and scheduled a Wednesday news conference to unveil the image to reporters. The two men gave The Associated Press a sneak peak Tuesday. 'You're right; it's Madonna,' Harris said after being told of the mix-up. Harris said he believed someone had slipped the poster into Nicastro's storage as a prank. 'If there ever was an embarrassing moment,' he said, adding that he planned to go ahead with the news conference to 'face the music.'"
In related news, it appears that Madonna, whose critics scoffed when she announced plans to release a 'coffee table' sex book at a time when the market didn't have the appetite for such a product, may be set to go the unconventional route again with the release of her film Filth & Wisdom.
Variety reports that its first availability in the U.S. and U.K. may be online. Said Madonna: "I've been speaking to iTunes about releasing it through them. I want the most amount of people to see it as possible. … I don't like to do anything conventionally."
Check out clips of the film here.
(Uncensored shot here NSFW obviously)
Previously
Madonna's Filth & Wisdom Debuts in Berlin – CLIPS [tr]
Madonna's Directorial Debut Boasts Filth, Wisdom, Large Mustache [tr]