Back in February I posted that State College, Pennsylvania Mayor Bill Welch planned to preside over a same-sex commitment ceremony. That ceremony took place on Saturday:
"The two gay couples, Paul Datti (graduate-counselor education) and Frank Vasquez, and James Collins (graduate-materials science and engineering) and Ryan Fitzpatrick renewed their commitments. Two lesbian couples, Kat Sinclair (graduate-human development and family studies) and Delia Guzman (senior-crime, law and justice), along with Donna Coffman, a Penn State research associate, and Amanda Applegate committed to each other for the first time. 'I was pleasantly surprised to see so many people. Just walking into the room and seeing the multitudes of people was heart-warming,' Collins said. Welch guided each couple through their vows and the sealing kiss. Koerber then introduced Steve Glassman, the chairman of the PA Human Relations Commission, calling him the highest-ranking openly gay official in Pennsylvania. ' …It would be impossible to witness this extraordinary sharing of love and commitment to one another without being profoundly moved,' Glassman said."
Said Welch: "I'm very please that it was as it was intended to be a happy, celebratory occasion that's about love and commitment and a different kind of family." (video)
The ceremony was said to be the largest of its kind to have taken place in Pennsylvania.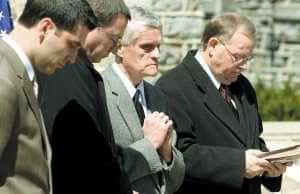 According to the AP, "Orthodox Christian Fellowship, a Penn State student group, protested outside by singing softly and holding plaques depicting Jesus. The Pennsylvania Family Values Coalition (pictured – source), a conservative Christian group, held a rally elsewhere on campus to show support for traditional marriage. 'We are not here to show hatred, though some people might think that,' the coalition chairman, the Rev. Gary Dull, of Faith Baptist Church in Altoona, told the crowd. 'But we are here to teach the truth of the Scripture about the family.'"
Couples unite in ceremony [daily collegian]
State College Mayor Presides Over Same-Sex Commitment Ceremony [wjac]
State College mayor holds commitment ceremony for 4 gay couples [ap]