Bad sign for the future of the Arctic ice cap: thickest, oldest, toughest ice melting…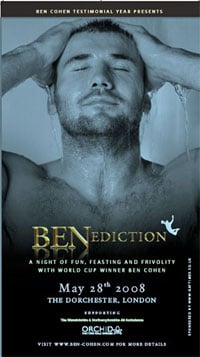 British rugby stud Ben Cohen releases details on a night with his gay fans: "'Moving away from the more traditional rugby testimonial theme, the Ben Cohen Testimonial Committee is holding a ground breaking event at The Dorchester in London,' his publicist Jill Tipping said. 'BENediction is an exclusive evening of fun, feasting and frivolity aimed primarily at including his legions of fans in the gay community in the testimonial celebrations. Guests are promised a 'whole host of treats and surprises making this event a real one off and not to be missed. Ben Cohen fans need to make sure that they reserve their places quickly as they are expected to snapped up fast,' Tipping said. Of course, we are not sure how far Cohen will take the concept of 'one off,' but he has never been shy about marketing his physical assets."

If you missed the first episode of this season's The Bachelor (and I have a feeling many of you did), you can catch up real quick: this mess was what it was all about.

AfterElton looks at Jimmy Kimmel and the gays.

Beckham power shops and rocks the plain white tee.

Central Illinois' only gay newspaper shuts its doors: "The Flame is out. After 111/2 years of publication, Prairie Flame, central Illinois' only newspaper that concentrated solely on gay issues and events, has called it a day…Volunteers distributed copies of each edition over much of the state, from Springfield to the Quad Cities, Joliet, Champaign and Effingham. Circulation was more than 8,000, and there were more than 200 places where the free newspaper could be found. But production costs kept rising, and ad revenue could not keep up."

Anderson Cooper underwent surgery for skin cancer: "I've been off for the last couple of days. I had minor surgery on Monday. I hadn't planned on mentioning this, but I still have stitches and you'll no doubt notice them tonight. Don't want you to think I got into a fist fight with Charlie Rose."

Manchester United's Cristiano Ronaldo under fire for bullfight commercial: "The advertisement, for Fuji Xerox, shows the Portuguese winger taunting the bull with a football in the manner of a matador with a cape."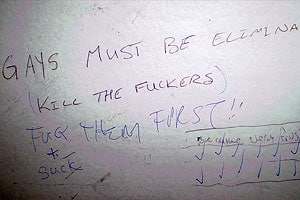 Ryerson University in Toronto sees gay bashing spike: "Ryerson's queer student group is scared homophobia is spreading across campus after its door was vandalized and grafitti saying 'gays must be exterminated' was left on a bathroom stall for at least three weeks. 'I have no doubt that we were targeted,' said RyePRIDE member Jesse Trautmann about a series of students' union stickers pasted on the group's door and nearby positive space posters on March 10. The office is located on the second floor of the Student Campus Centre. 'The amount of time it would have taken to cover the entire Rye- PRIDE sign — it was intentional.'"

Group pushes for "gay village" in Ottawa, Canada.

Madonna and Guy Ritchie still together, or just playing for the cameras?