Florida state senator Nan Rich has introduced a bill that would bring the Sunshine State a little bit closer to ending its ban on adoptions by same-sex parents.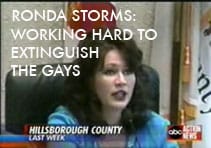 CBS4 reports: "Under Rich's bill, gay foster parents would be allowed to adopt children if a judge rules it's in the child's best interest. Also, a gay adult would be considered a potential adoptive parent if he or she were the legal guardian of the child whose parents had died. Rich's proposal has received support from a number of groups including the National Council of Jewish Women, ACLU and Planned Parenthood."
Rich faces a tough battle, however, against a closet case and a bigot. Florida Governor Charlie Crist is opposed to ending the ban, and the bill has been assigned to a committee headed up by anti-gay harpy Ronda Storms!
I wrote about Storms back in 2005 when she was a Hillsborough County commissioner upset that the county was recognizing gay pride. So, it's no surprise that now Storms, who "ran for [state senate] on a pledge to prevent gays from being foster parents" has refused to bring the bill up for a debate or a vote.
Today is "Fair Adoption Lobby Day" Florida Today reports: "At a press conference on the issue, House sponsor Mary Brandenburg, D-West Palm Beach, pointed out that gay couples are allowed by law to be foster parents. If that's all right, she said, 'they should be able to become the forever parents.' Non-traditional, loving families, including single parents and gay couples, are preferable to state care, she said. 'It's an issue of the heart, and it's an issue of common sense,' she said, adding that the state spends thousands of dollars trying to provide care for children who might otherwise be with gay parents."