Ian Watkins (pictured, formerly of the British pop band Steps), who came out publicly in January 2007, was recently filming a special on Wales for the BBC and was confronted by a "Christian campaigner" who told him that being gay is no better than being a serial killer, the BBC reports: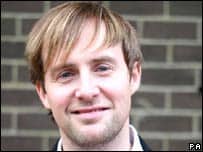 "Christian Voice director, Stephen Green, told Watkins his lifestyle was 'sinful', and made him no better than US mass murderer Jeffrey Dahmer. Mr Green also told the former Celebrity Big Brother contestant he could become straight if he wanted to. The comparison to Dahmer who was jailed for life in 1992 after the Wisconsin trial heard evidence of his cannibalism after murdering his victims came when Watkins told Mr Green he was 'completely happy' being gay and that he was in a loving relationship. Mr Green added: 'Jeremy (sic) Dahmer was happy murdering people, does that make it right?' The comment shocked Watkins and he responded: 'So, being completely happy and at one with yourself, and being in a happy, loving relationship is the same as murdering somebody?' But Mr Green stuck to his guns during the exchange: 'Sin is sin…in the eyes of God, sin is sin…' When Watkins referred to people being born gay, Mr Green told him: 'I don't believe anybody is born homosexual. God wouldn't allow anybody to be born homosexual.' Watkins, who came out when he was in the Big Brother house alongside Shilpa Shetty and Jade Goody, says he was 'absolutely flabbergasted' by the comments."
Green obviously attended the Sally Kern school of lower education.
Previously
Former Steps Singer Ian Watkins: I'm Gay [tr]