The Family Research Council's Peter Sprigg spoke to the Medill Reports about the Uniting America Families Act, which would eliminate discrimination with regard to foreign partners of gay and lesbian citizens, allowing them to obtain permanent resident status in the same way that spouses do.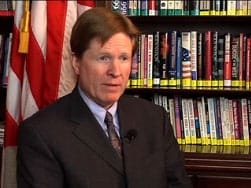 Not surprisingly, Sprigg had some unenlightened things to say about how he feels gays and lesbians should be treated with regard to immigration.
Said Sprigg: "I would much prefer to export homosexuals from the United States than to import them into the United States because we believe homosexuality is destructive to society."
And no doubt he would if he could.
Watch the video here (top of page).
Gays Seek Immigration Reform [medill reports]
(via citizen crain via daily dish)