Gavin Newsom, who has become known as the "gay marriage mayor" in some circles, is considering a run for California governor, the SF Chronicle reports.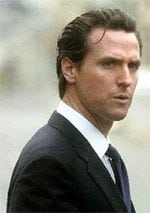 That issue would likely play a prominent role in Newsom's run for governor, and as recently as last week he was determined to show he still stands behind what he did:
"And as the state Supreme Court heard oral arguments Tuesday on same-sex marriage – a case brought about by Newsom's controversial 2004 decision to grant marriage licenses to thousands of gay and lesbian couples – the mayor's handlers made sure he played a prominent role in the day's events. Before the proceedings began, the mayor called a morning news conference to talk about the court case. He then took a well-choreographed walk outside City Hall which, not by coincidence, was captured by the throngs of television cameras gathered for the nearby hearing. He followed the stroll with a surprise visit to the same-sex marriage supporters watching the proceedings in an overflow room. Throughout the day he made strong statements about the important role the next governor will play on the topic. Schwarzenegger has vetoed two bills that would have legalized gay marriage. 'This governor represents yesterday on this issue,' Newsom said. 'There'll be a governor who represents the future and the next governor will unquestionably in my mind, if it's a Democrat, support it.'"
According to recent polls, Newsom is enjoying a 67% approval rating among San Franciscans.
S.F. mayor may run for governor [sf chronicle]