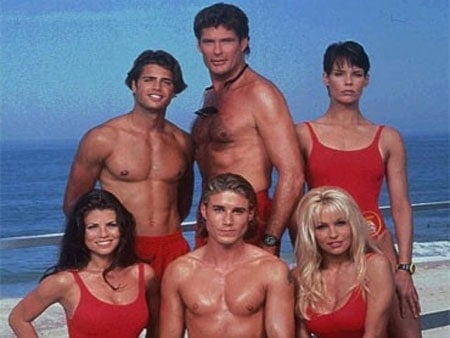 Former Baywatch actor and Playgirl cover model Jaason Simmons (bottom row, center) has come out of the closet in Australia's New Idea magazine.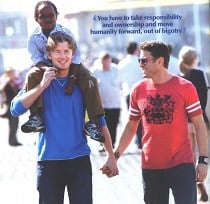 SameSame reports: "The Tasmanian-born actor, who played Australian lifeguard Logan Fowler on Baywatch for three years in the mid 1990s, has ended years of speculation in the hope of raising awareness of African adoption. Simmons has appeared in Australian New Idea magazine with his boyfriend of eight months, Irish actor John O'Callaghan, and his adopted six year-old Ugandon son saying that they want to get married. The couple plan to wed in Canada as same-sex unions are not legally recognized in California where they both live."
Said Simmons: "We're doing it for our family and for my soon-to-be son. Although you don't want to typecast yourself, you have to take responsibility and ownership and move humanity forward, out of bigotry. Our son needs to see we can stand in front of family and loved ones who are going to support our union through the good times and bad."
Good for him. Setting a better example for marriage than Pamela Anderson shouldn't be difficult.