Mike Jones, the escort who exposed New Life pastor Ted Haggard is taking his story to the stage in a play premiering in Denver entitled Naked B4 God.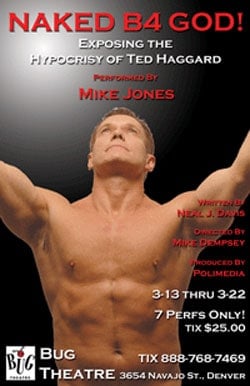 Jones told the Rocky Mountain News: "It gives me a chance for people who don't want to spend a lot of time reading the book. It's much bigger than just the headline people saw in the papers…I'm up there actually doing a performance. I actually go through and act out some of the sequences of what I was going through. I just don't stand there and just talk."
Producer Chris Johnson told the paper that the play adds another dimension to Haggard's story:
"It moves into the realm of a national debate, really, touching on the topics of religious hypocrisy, the culture that breeds such secrecy. News stories are kind of ADD, where they move on to the next biggest headline and yesterday's headline is kind of forgotten about. I wanted to bring this story back to life to not necessarily preach to folks but to maintain that dialogue…There's some hesitancy with going with a non-actor for anything theater-related. It's a very big risk, but it's one we're willing to try…We took some test footage of him, and he has a personality and he has some presence onstage. Director Mike Dempsey worked really hard with him to make sure he was able to not only connect with the material, but also to connect with the character…One of the things I'm trying to get out there is, unfortunately, a lot of people see this story and because of the labels that are involved – prostitution, sex, drugs, religion – they think they understand the story based on stereotypes. For Mike, this was a very difficult decision. It's adding insight to the story."
Naked B4 God runs from March 13 – 22 at The Bug Theater in Denver.