Of course you remember Oklahoma State Rep. Sally Kern's anti-gay rant. Kern has been standing her hateful ground since her remarks broke wide across the internet.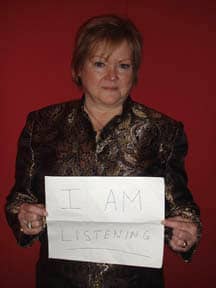 Last week, 300 people rallied outside the Oklahoma state capitol to protest Kern's remarks, and the lawmaker, who says she has received death threats over her statements, agreed to meet this week with "two or three" representatives of the LGBT community once she had her lawyers in place.
Today Judy Shepard released a message for the bigot:
"My son died nearly ten years ago at the hands of people whose hatred changed many lives that day. It hardened hearts and brought others to their knees. It shook a nation and enraged millions. At that time, I knew there was a window of opportunity that I could use Matthew's story and my voice in replacing hate with understanding, compassion and acceptance. Through the Matthew Shepard Foundation, we are reaching young people who are at risk of being poisoned by the dark ideas of people like Sally Kern. I don't know why Sally Kern is proud of comparing gay people to cancer or terrorism, but count me as someone who's listening now to people like her. She may be free to say people like my son are a threat to America, but when she does she puts other mothers' sons in danger. I pray she doesn't say it anymore."
Read Shepard's entire message at The Victory Fund.
Judy Shepard: Sally Kern's free speech [victory fund]