Finalists have been announced for the 20th annual Lambda Literary Awards, which will be handed out in West Hollywood at the Pacific Design Center on May 29th.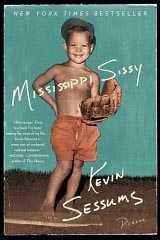 Among the more than 100 nominees is Towleroad's Kevin Sessums, whose memoir Mississippi Sissy was nominated in the 'Men's Memoir/Biography' category. Kevin has been writing our theater reviews. His award is well-deserved. I'll take this opportunity to toot Kevin's horn a bit more – the book was also named one of the Amercian Library Association's four 'Stonewall Books' for 2007 and was named one of Amazon's Best Books of 2007. It's out in paperback tomorrow
!
I interviewed him about the book back in March.
Congrats Kevin!
A full list of the Lambda Literary Award nominations, AFTER THE JUMP…
LGBT ANTHOLOGIES
* Juicy Mother 2, Jennifer Camper (Manic D Press)
* Vital Signs, Richard Canning (Carroll & Graf)
* First Person Queer, Richard Labonte and Lawrence Schimel (Arsenal Pulp Press)
* Men of Mystery: Homoerotic Tales of Intrigue and Suspense, Sean Meriwether & Greg Wharton, (Haworth)
* Baby Remember My Name, Michelle Tea (Carroll & Graf)
LGBT ARTS & CULTURE
* Media Queered, Kevin Barnhurst (Peter Lang Publishing)
* Art That Dares, Kittredge Cherry (AndroGyne Press)
* The View From Here, Matthew Hays (Arsenal Pulp Press)
* Feeling Backward, Heather Love (Harvard University Press)
* Other Men's Sons, Michael Rowe (Cormorant Books)
LGBT CHILDRENS/YOUNG ADULT
* Someday This Pain Will Be Useful to You, Peter Cameron (Farrar, Straus and Giroux)
* Hero, Perry Moore (Hyperion)
* Saints of Augustine, P.E. Ryan (HarperTeen)
* Freak Show, James St. James (Dutton Children's/Penguin)
* Parrotfish, Ellen Wittlinger (Simon & Schuster)
LGBT DRAMA/THEATER
* Dose: Plays & Monologues, Dan Bernitt (Sawyer House)
* Niagara Falls, Victor Bumbalo (Broadway Play Publishing)
* Return of the Caffe Cino, edited by Steve Susoyev and
George Birimisa (Moving Finger Press)
LGBT EROTICA
* The Golden Age of Lesbian Erotica, Victoria Brownworth & Judith M. Redding (Magic Carpet Books)
* Red Light, J. D. Glass (Bold Strokes Books)
* Ardennian Boy, William Maltese & Wayne Gunn (MLR Press)
* The Mammoth Book of New Gay Erotica, Lawrence Schimel (Carrol & Graf)
* Homosex, Simon Sheppard (Running Press)
* Every Dark Desire, Fiona Zedde (Kensington)
LGBT NONFICTION
* Between Women, Sharon Marcus (Princeton University Press)
* Pink Harvest, Toni Mirosevich (Mid-List Press)
* Other Men's Sons, Michael Rowe (Cormorant Books)
* Gay Artists in Mondern American Culture, Michael S. Sherry (University of North Carolina Press)
* Imagining Transgender, David Valentine (Duke University Press)
LGBT POETRY
* Blackbird and Wolf, Henri Cole (Farrar, Straus & Giroux)
* A Gathering of Matter/A Matter of Gathering, Dawn Lundy Martin (University of Georgia Press)
* Otherwise Obedient, Carol Potter (Red Hen Press)
* Fata Morgana, Reginald Shepherd (University of Pittsburgh)
* The Second Person, C. Dale Young (Four Way Books)
* Human Resources, Rachel Zolf (Coach House Books)
LGBT SCI-FI/FANTASY/HORROR
* Wicked Gentlemen, Ginn Hale (Blind Eye Books)
* A Companion to Wolves, Sarah Monette and Elizabeth Bear (Tor Books)
* Spaceman Blues: A Love Song, Brian Francis Slattery (Tor Books)
* The Dust of Wonderland, Lee Thomas (Alyson Books)
* Ha'penny, Jo Walton (Tor Books)
LGBT STUDIES
* Writing Desire, Bertram Cohler (University of Winsconsin Press)
* The First Man-Made Man, Pagan Kennedy (Bloomsbury)
* Between Women, Sharon Marcus (Princeton University Press)
* Caribbean Pleasure Industry, Mark Padilla (University of Chicago Press)
* Once You Go Black: Choice, Desire, & the Black American Intellectual, Robert Reid-Pharr (NYU Press)
BISEXUAL
* Look Both Ways, Jennifer Baumgardner (Farrar, Strauss & Giroux)
* Becoming Visible, Beth Firestein, Ed., (Columbia University Press)
* Split Screen, Brett Hartinger (Harper Collins Children's Books)
* The Tourists, Jeff Hobbs (Simon & Schuster)
* Stray, Sheri Joseph (MacAdam/Cage)
TRANSGENDER
* Transparent, Cris Beam (Harcourt)
* Male Bodies, Women's Souls, LeeRay M. Costa, PhD, (Haworth)
* The Marrow's Telling, Eli Clare (Homofactus Press)
* What Becomes You, Aaron Raz Link & Hilda Raz (University of Nebraska Press)
* Nobody Passes, Mattilda, aka Matt Bernstein Sycamore (Seal Press)
LESBIAN DEBUT FICTION
* Lockjaw, Holly Farris (Gival Press)
* Dahlia Season, Myriam Gurba (Manic D Press)
* Among Other Things, I've Taken Up Smoking, Aoibheann Sweeney (The Penguin Press)
* Breathing Underwater, Lu Vickers (Alyson Books)
* O Street, Corrina Wycoff (Other Voices)
GAY DEBUT FICTION
* Tales from the Town of Widows, James Canon (Harpercollins)
* A Push and a Shove, Christopher Kelly (Alyson Books)
* That Was Then, Michael Quadland (Red Hen Press)
* SoMa, Kemble Scott (Kensington)
* Freak Show, James St. James (Dutton Children's/Penguin)
WOMEN'S FICTION
* Biting the Apple, Lucy Jane Bledsoe (Carroll & Graf)
* The IHOP Papers, Ali Liebegott (Carroll & Graf)
* Greetings from Jamaica, Mari San Giovanni (Bywater Books)
* The Child, Sarah Schulman (Carroll & Graf)
* The Kind of Girl I Am, Julia Watts (Spinsters Ink)
* The Mandrake Broom, Jess Wells (Firebrand Books)
WOMEN'S ROMANCE
* Sheridan's Fate, Gun Brooke (Bold Strokes Books)
* The Road Home, Frankie J. Jones (Bella Books)
* Out of Love, K. G. MacGregor (Bella Books)
* For Now, for Always, Marianne K. Martin (Bywater Books)
* When Dreams Tremble, Radclyffe (Bold Strokes Books)
WOMEN'S MYSTERY
* Wall of Silence, 2nd Ed., Gabrielle Goldsby (Bold Strokes Books)
* Mortal Groove, Ellen Hart (St. Martin's Press)
* In the Name of the Father, Gerri Hill (Bella Books)
* Selective Memory, Jennifer L. Jordan (Spinsters Ink)
* Laura's War, Ursula Steck (Bella Books)
WOMEN'S MEMOIR/BIOGRAPHY
* Comfort Food for Breakups, Marusya Bocurkiuw (Arsenal Pulp Press)
* And Now We Are Going to Have a Party, Nicola Griffith (Payseur & Schmidt)
* An Army of Ex-Lovers, Amy Hoffman (University of Massachusetts Press)
* Two Lives: Gertrude & Alice, Janet Malcolm (Yale University Press)
* Waiting for the Call, Jaqueline Taylor (University of Michigan Press)
MEN's FICTION
* Call Me By Your Name, Andre Aciman (Farrar Straus Giroux)
* First Person Plural, Andrew W.M. Beierle (Kensington)
* Dark Reflections, Samuel R. Delany (Carroll & Graf)
* Fellow Travelers, Thomas Mallon (Pantheon)
* The Faith Healer of Olive Avenue, Manuel Munoz (Algonquin)
MEN's ROMANCE
* Changing Tides, Michael Thomas Ford (Kensington)
* A Secret Edge, Robin Reardon (Kensington)
* Right Side of the Wrong Bed, Frederick Smith (Kensington)
* Broadway Nights, Seth Rudetsky (Alyson Books)
* A Few Hints and Clews, Robert Taylor (Haworth)
MEN's MYSTERY
* Double Abduction, Chris Beakey (J. Boylston/ ibooks, Inc.)
* Stain of the Berry, Anthony Bidulka (Insomniac Press)
* Pierce, Roberto Ferrari (Haworth)
* Murder in the Rue Chartres, Greg Herren (Alyson Books)
* Mahu Surfer, Neil Plakcy (Alyson Books)
* Drag Queen in the Court of Death, Caro Soles (Haworth)
MEN'S MEMOIR/BIOGRAPHY
* Forgiving Troy, Thom Bierdz (Hudson House)
* Dog Years, Mark Doty (HarperCollins)
* The Worlds of Lincoln Kirstein, Martin Duberman (Knopf)
* The History of My Shoes and the Evolution of Darwin's Theory, Kenny Fries (Perseus Books)
* What Becomes You, Aaron Raz Link & Hilda Raz (University of Nebraska Press)
* Mississippi Sissy, Kevin Sessums (St. Martin's Press)