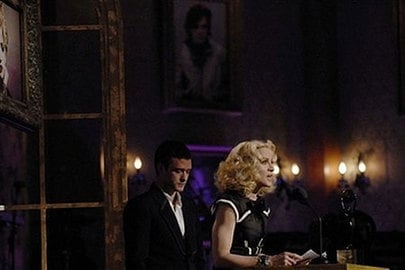 Robbie Daw presents a weekly pop music update here on Towleroad! Robbie runs his own site called Chart Rigger.
Along with John Mellencamp, Leonard Cohen and the Dave Clarke Five, Madonna was inducted into the Rock & Roll Hall Of Fame last night. When all was said and done, Justin Timberlake threw out a barrage of sexual innuendos and even a few jabs at Britney Spears ("The world is full of Madonna wannabes — I might have dated a couple.") in his intro, Iggy Pop performed "Burning Up" and "Ray Of Light" and Madge herself laced a recounting of 25 years in the biz with several F bombs.
Justin's story about Madonna making him drop his pants and giving him a shot in the rear when he got sick while working on her new album Hard Candy (due out April 29) is one of the highlights making the rounds in the news reports of the event.
YouTuber MadonaGlamxxx posted the above clips along with the second part of Madonna's speech and Iggy Pop's performance, which ends with him meeting up with her in the kitchen of the venue to walk to the press room.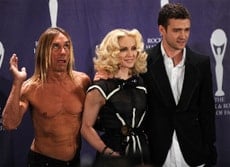 Madonna also paid tribute to Liz Rosenberg, who has been her publicist for her entire career: "Does anybody understand the insanity of being my publicist for the last 25 years? I think Liz was smoking a joint when I first met her. Yeah. I walked into her office and she very politely stubbed it out in the ashtray. I don't think she knew I thought she was smoking a joint, but it was a little bit obvious. Anyway, we hit it off right away. She was my kind of girl — tough, irreverent and funny — and we've had a long and amazing chunk of time together. After dealing with all the nutcases she's had to deal with and putting out all the fires she's had to put out, it's kind of amazing that she's not shooting up heroin."
Interestingly, one person not mentioned at all by the 49-year-old singer in her speech was her husband, Guy Ritchie, who was not present at the induction ceremony.
In other news, the apparent single cover artwork for "4 Minutes To Save The World" (or maybe just "4 Minutes") has been revealed.

British blue-eyed soul singer Duffy, whose single "Mercy" has held the #1 position on the U.K. pop chart for the past month, finally makes it to these shores. Sure, she's coming in on the heels of Amy Winehouse, but the song's slinky "Yeah, yeah, yeah…" refrain is practically the antithesis of the boozy "No, no, no!" in Amy's "Rehab." At the very least, check out "Mercy" since it's the free download of the week on iTunes. Her full album Rockferry, also currently #1 in England, gets a stateside release in April.

While reporting on a burgeoning backlash against him, the Los Angeles Times writes a valentine to 17-year-old American Idol contestant David Archuleta (pictured right): "His enormous, obvious-even-to-the-tone-deaf vocal gifts have at times made him look like nothing so much as that beloved of show-biz trope, the competition-crushing prodigy: Think Tom Hulce as Mozart in Amadeus."

Despite rumors, Apple not quite ready to take a bite out of The Beatles.

R.E.M.'s Accelerate to hit Facebook a week ahead of its release date.
Last month I posted a clip of 25-year-old singer/songwriter Ferras performing his song "Hollywood's Not America" on The Today Show. Truth be told, his album Aliens & Rainbows, out today, contains far better material. If you don't want to take chance on the whole thing (though it's only $7.99 on iTunes), check out the early-Elton John and Bowie-esque title track, along with the power pop numbers "My Beautiful Lie" and "Something About You."
Randy Jackson's Music Club, Volume One also surfaces today. It contains Paula Abdul's current single, "Dance Like There's No Tomorrow."
Snoop Dogg's ninth studio album, the 21-track Ego Trippin', was reported to originally contain collaborations with Bono, Mick Jagger and Madonna. None of those made it on the set.